October 26, 2022, traditional unceded Algonquin Territory/Ottawa, Ontario – Canada's provincial, territorial, and federal governments are not doing enough to meet the country's commitments to protect land and ocean, says the Canadian Parks and Wilderness Society (CPAWS). The call to ramp up action for nature protection follows the release of national polling results that say the majority of Canadians support committing to protect more land and sea in Canada, and that the majority consider land and ocean protection a major voting issue.
"Canadians are demanding greater action from their provincial, territorial, and federal governments to protect land and ocean," says Sandra Schwartz, CPAWS National Executive Director. "Canadians see habitat loss, protection of wildlife, and the interconnected biodiversity loss and climate change crises as critical issues, and governments must urgently step up their response."
In 2021, Canada's federal government joined other G7 countries in committing to protect 30% of land and ocean in the country by 2030 — a critical step towards addressing biodiversity loss and climate change. While some progress has been made, there is still a lot of work to do to meet these obligations.
"Progress on nature protection varies widely across Canada's provinces and territories," says Schwartz. "A few have made significant gains, but in most areas we haven't seen progress at the scale necessary to halt and reverse biodiversity loss."
Schwartz says CPAWS is also urging governments to take significant steps to work with Indigenous Peoples towards the creation of more protected areas.
"Over 80% of Canadians told us that they support the creation of more Indigenous Protected and Conserved Areas," she says. "Indigenous-led conservation will be key to achieving Canada's nature protection goal, as many of the opportunities to protect land and ocean depend on efforts led by Indigenous Peoples."
"These results show consistent trends across the country that Canadians want their governments to act," adds Schwartz. "This work takes time. The only way Canadians will see the positive change they want for nature and wildlife by the end of this decade, is if all governments, especially provinces and territories, act right now to do more for nature.
CPAWS' call for urgent action comes ahead of the 15th meeting of the Conference of the Parties (COP15) to the United Nations Convention on Biological Diversity. The Nature COP takes place in Montreal in December 2022. It will be a pivotal moment for global efforts to halt and reverse biodiversity loss, and for Canada to demonstrate its leadership in working towards this goal.
To highlight the urgency of protecting land and ocean, CPAWS collaborated with visual artist Patrick Thompson, representing Wakefield, Quebec, and Inuit artist Parr Etidloie (née Josephee), representing Kinngait Cape Dorset, Nunavut, to create four large-scale art installations of iconic wildlife from across the country. Each animal (caribou, orca, puffin, and trout) represents a unique Canadian ecosystem impacted by threats to nature.
"We are the generation that needs to halt and reverse climate change and biodiversity loss," says Schwartz. "Canadians told us that protecting wildlife was the most important reason to protect land and ocean. Wildlife can't wait – and neither can we."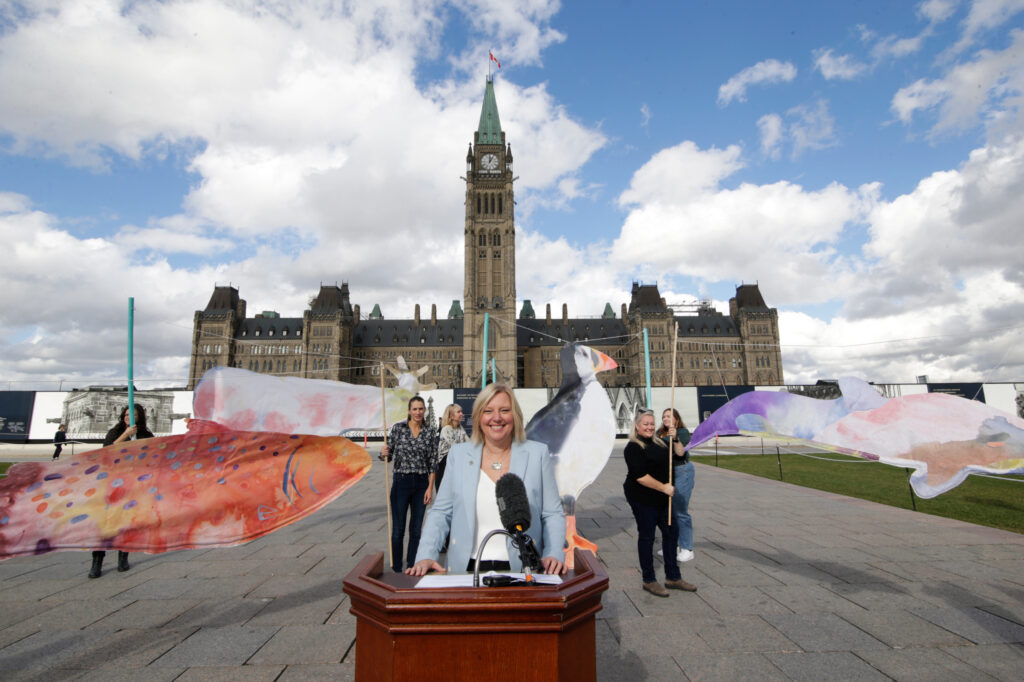 For nearly 60 years, CPAWS has supported hundreds of conservation initiatives and has helped establish protected areas throughout Canada. With this unwavering commitment to conservation, CPAWS is urging all governments in Canada to work together to achieve 30% protection by the end of the decade. Canadians who want to get involved are asked to visit We Can't Wait, a new site where users can find opportunities to join conservation campaigns in their province or territory.
– 30 –
About CPAWS
The Canadian Parks and Wilderness Society (CPAWS) is Canada's only charity dedicated to the protection of public land, freshwater and ocean with a strong national and regional presence across the country. Working in a way that respects the sovereignty and leadership of Indigenous nations, we are focused on conserving nature to respond to the dual crises of accelerated biodiversity loss and climate change. Our vision is that at least half of land, freshwater and ocean in Canada is permanently protected to sustain nature and people for current and future generations. For more information about CPAWS and the work we do to safeguard Canada's natural heritage, visit cpaws.org. Join our community on Facebook, Twitter, Instagram and LinkedIn. Donate today. Take action.

For more information, please contact:
Tracy Walden
National Director, Communications and Development, CPAWS
[email protected]
613-915-4857
Kate Toogood
We Can't Wait Media Relations
[email protected]
780-914-5449