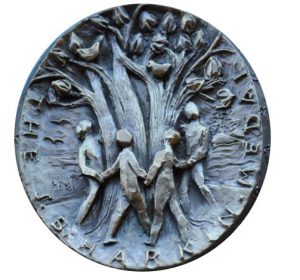 The Harkin Conservation Award honours individuals who have demonstrated a significant contribution throughout their lifetime through words and deeds to the conservation of Canada's parks and wilderness. This contribution may have resulted from the individual's occupational or professional responsibilities, or from their activities as a citizen or member of a group.
Recipients of the J.B. Harkin Conservation Award were presented with the J.B. Harkin Medal. The medal was designed and cast in bronze by one of Canada's preeminent sculptors and medal designers, the late Dora de Pedry Hunt (1913-2008).
Read CPAWS and the Athabasca Chipewyan First Nation's media release regarding the 2023 rebranding of the Harkin Award.
J. B. Harkin Award Recipients
In 1972, CPAWS formally established the James B. Harkin Conservation Award, which is awarded to Canadians who promote conservation.
Recipients of the Harkin Award include:
2018 Cliff White
2014 David Henry
2013 John Marsh, Ric Careless and Harvey Locke
2011 Nikita Lopoukhine
2010 The Panel on Ecological Integrity of Canada's National Parks
2008 Bob Peart
2007 Dr. Jim Thorsell
2005 Dr. J. Gordon Nelson
2003 Mike Harcourt and Derek Thompson
2002 Elizabeth May
2001 Monte Hummel
2000 Mike and Diane McIvor
1999 Dr. Stephen Herrero
1998 Dr. John Theberge (with special recognition of May Theberge)
1997 Cliff Wallis
1996 Chief Emeritus Ruby Dunstan
1995 Dr. J. Stan Rowe
1992 Jennifer Shay and Vernon C. Brink
1990 Andy Russell
1989 Gavin Henderson
1987 Alex T. Davidson
1985 Michael J. Nolan, George W. Scotter and Charles Sauriol
1981 George F. Ledingham
1978 William Fergus Lothian
1975 Roderick Haig-Brown
1972 Hon. Jean Chrétien