CPAWS works hard to maximize the proportion of revenue spent on our wilderness work. Our goal is a sustainable financial foundation for our conservation efforts, and sustained protection of Canada's wilderness.
Each year, our 13 chapters and the national office devote over 70 per cent of its budget to conservation and education, spending less than 15 per cent on fundraising costs.
Financial Fitness
Again, this year, the CPAWS team demonstrated adaptability while working-from-home and identifying new funding avenues to bolster the ongoing generous support of our donors against pandemic-related financial uncertainty. The support from our donors barely wavered, as they provided to CPAWS $11,717,962 in funding allowing us to focus 73% of our spending exclusively on conservation. Our partners and stakeholders can be confident CPAWS remains financially stable and focused on our conservation mission.
PRIOR YEAR COMPARATIVE FIGURES UPDATE
In the prior year's audited financial statements, the externally restricted contributions contracted and disbursed to unincorporated chapters were included as revenue and conservation program expenses. To follow the deferral method of accounting for contributions for our unincorporated chapters, CPAWS revised the Statement of Operations for the prior year
to remove disbursements to its unincorporated chapters for externally restricted contributions from both revenue and expenses.
This revision has no impact on net revenue nor net assets. However, for year ended March 31, 2021, both revenue and expenses were reduced by $1,780,986. Our spending exclusively on conservation programs was also reduced to 75% (from 79% as reported in 2021 Impact Report).

Laura Cui
National Director, Finance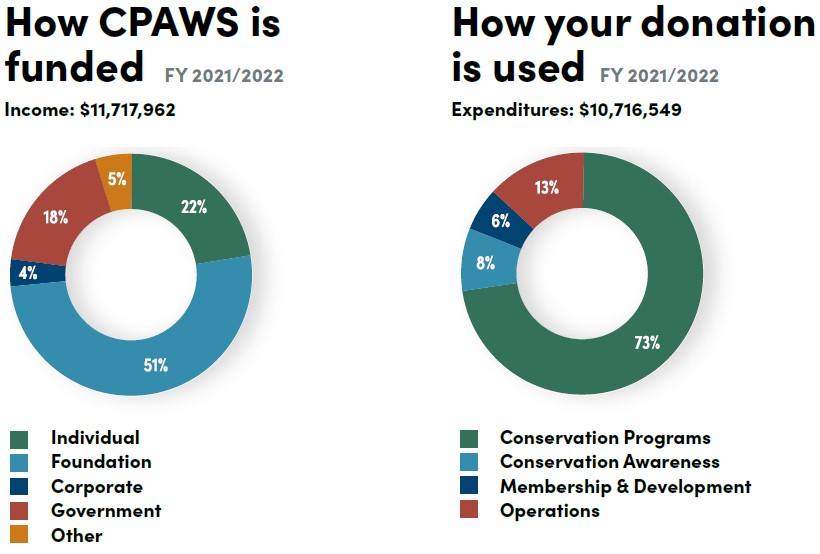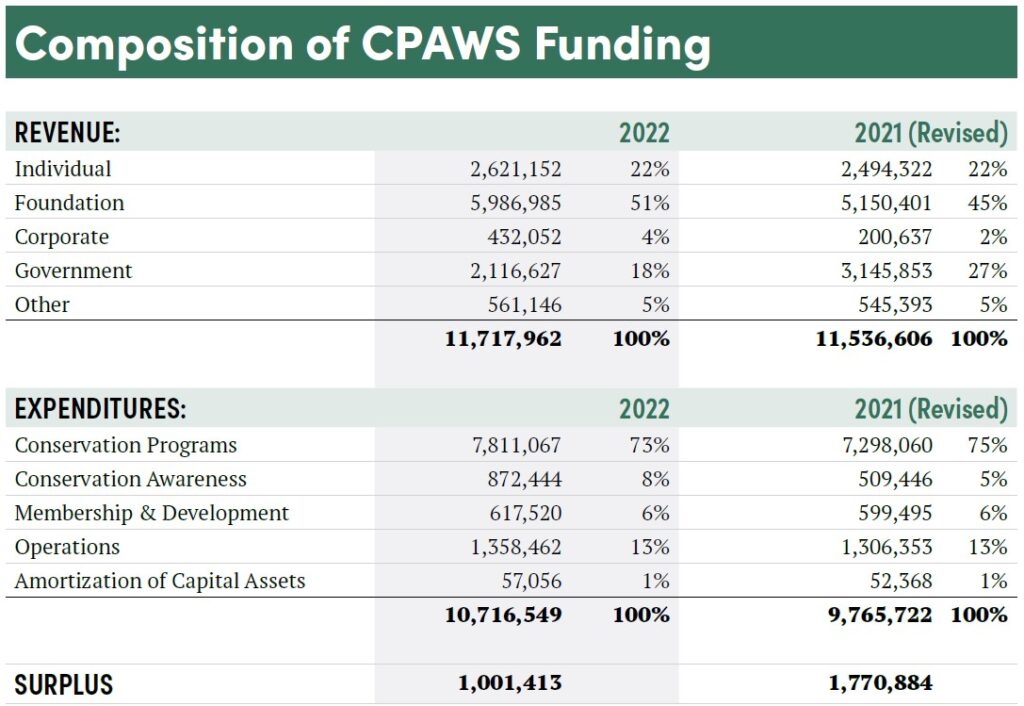 CPAWS Financial Statements
Foundation Financial Statements
The Foundation for Canadian Parks and Wilderness was established in 1993 to promote the conservation of natural land and marine ecosystems in Canada through public education, scientific studies and protections, and to receive donations, grants, and bequests to fund its administration as well as projects undertaken directly or by other organizations promoting the same objectives as the Foundation.
The Foundation specifically supports the Canadian Parks and Wilderness Society in its mission to advocate for the effective, long-term protection of ecologically- and culturally-significant land, freshwater and ocean areas in Canada, working in a way that respects the sovereignty and leadership of Indigenous nations.