CPAWS has accomplished a lot over the past 50+ years and has played a pivotal role in strengthening Canadians' relationship with our natural environment. Below is just a sampling of the successes that have brought us to where we are today.
Acknowledging CPAWS' responsibility to reconciliation and healing
As a conservation organization, CPAWS acknowledges that our past, and the present, are rooted in the norms and customs of the European colonization of Canada. We recognize that we are in the early stages of an important journey of reconciliation, and we must evolve as we learn. We also acknowledge that it will not be up to non-Indigenous Canadians to determine if our actions are effective. As we work toward achieving the protection of Canada's diverse ecosystems, CPAWS is committed to doing so in the spirit of truth and reconciliation, recognizing the essential leadership of the Indigenous stewards who have cared for these lands and waters since time immemorial. We are committed to being true partners and we recognize that it is our responsibility to support Indigenous Peoples to safeguard land and water for future generations and advance shared conservation priorities based on relationships, respect, and reciprocity.
Conservation wins and advancements
(APRIL 1, 2021 – MARCH 31, 2022)
As the world continued to cope with the implications of a global pandemic and other disruptions, the commitment to conservation in Canada held steady.
In April 2021, in advance of the federal budget, the British Columbia government announced an $80 million investment in BC's provincial parks over the next three years; this historic budget increase was decades overdue and the result of much campaigning by CPAWS BC and other BC nature-focused organizations.
A mere few days later, we saw the largest Canadian investment ever in nature, as the Federal Budget included an unprecedented $3.2 billion for nature protection, demonstrating a solid commitment towards addressing the intertwined biodiversity and climate change crises. This monumental investment included $976.8 million over 5 years specifically to protect Canada's ocean and $2.3 billion to protect land and freshwater, focused on implementing Canada's commitment to protect 30% of land and ocean by 2030. This historic investment also signaled a focus on reconciliation by supporting Indigenous Guardians and the development of Indigenous Protected and Conserved Areas.
Meanwhile, CPAWS successes continued across the country...
The good news continued through the spring when SNAP Québec's advocacy efforts paid off as Québec pledged to protect 30% of its landmass by 2030. And CPAWS Nova Scotia was also celebrating its success when the Nova Scotia government announced its intention to establish 61 new protected areas across the province. And finally, after 101 months of delay, the federal Minister of Fisheries, Oceans, and the Canadian Coast Guard and the federal Minister of Environment and Climate Change signed a ministerial order enforcing the prohibition to destroy the critical habitat of the copper redhorse under the Species at Risk Act.
On the heels of ensuring the habitat of one small species of fish remains untouched, the Government of Canada presented a firm stance on the future of thermal coal mining projects and project expansions: they do not align with Canada's domestic and international climate change commitments. The statement came as a clear indication that Canada is committed to being an international leader on climate action and biodiversity.
This commitment was reaffirmed as Canada joined other G7 countries in approving a Nature Compact to halt and reverse biodiversity loss by The Leaders also committed to implementing these targets at the national level, recognizing Indigenous Peoples as full partners.
Shortly thereafter, CPAWS celebrated the declaration by long-time partners, the Cumberland House Cree Nation, of the environmental and economic jurisdiction and protection of Kitaskīnaw as a first step in the Indigenous-led protection of the Saskatchewan River Delta.
In the 48 hours that followed, we celebrated as an Alberta Joint Review Panel responded to almost 5,000 letters from CPAWS supporters by denying Benga Mining Ltd's application for the Grassy Mountain Coal Project under the Coal Conservation Act. Subsequently they also denied all of Benga's other related applications under the Environmental Protection and Enhancement Act, the Water Act, and the Public Lands Act.
In the spring, we released The Grades Are In: A Report Card on Canada's Progress in Protecting its Land and Ocean. In it, we evaluated efforts to create protected areas over the past decade by Canada's current federal, provincial, and territorial governments, and assigned each jurisdiction a grade based on their contributions and shortcomings. The goal of this inaugural Report Card was to learn from the successes and failures of the past to guide effective conservation into the future.
In the fall, we were elated to see the approval of Motion 101 by an overwhelming majority of country and nongovernmental organization delegates at the International Union for Conservation of Nature (IUCN)'s Conservation Congress. This motion, co-sponsored and authored by CPAWS, recognizes the need to conserve at least half the planet to successfully tackle the biodiversity and climate crises. It also highlights the critical importance of engaging with Indigenous Peoples and respecting Indigenous rights in all conservation activities and supports a target of protecting at least 30% of land and ocean by 2030 in the Post-2020 Global Biodiversity Framework.
Following much campaigning, CPAWS celebrated good news for Alberta's caribou when Parks Canada made an evidence-based and precautionary decision to extend the backcountry access closures for the entire snow season in Jasper's Tonquin and Brazeau caribou ranges, where caribou are on the brink of extirpation.
The good news continued to flow as the Government of Québec awarded $3.3M to SNAP Québec to support their conservation initiative in collaboration with municipalities to establish protected areas and conservation corridors which will help to strengthen the representative character of the protected areas network, particularly in southern Québec, where biodiversity is the richest and most threatened.
Progress on terrestrial campaigns drew our focus to marine conservation which proved to need greater bolstering. In our report, The MPA Monitor, we provided a first-of-its-kind assessment of the quality of Canada's federal Marine Protected Areas (MPAs), and we discovered that half the area Canada is counting towards its marine protection targets is, in fact, weakly protected. This study made CPAWS the first organization to assess Canada's federal MPAs against both The MPA Guide, which was developed by and international team of experts, and Canada's minimum protection standards.
Following the September federal election, we commended the government's renewed promise to protect 30 percent of land and ocean and to halt and reverse biodiversity loss by 2030, partnering with Indigenous Peoples and respecting traditional knowledge. This reaffirmed Canada's strong commitment to address the interconnected crises of climate change and biodiversity loss.
This promise to work in partnership with Indigenous Peoples was reinforced in early 2022, when the Government of Alberta designated the expansion of the Kitaskino Nuwenëné Wildland Park in northern Alberta. The largest protection of boreal forest in the world could not have been possible without the leadership of CPAWS Northern Alberta's long-time partner the Mikisew Cree First Nation, who identified this area for conservation and worked collaboratively with industry and the provincial government since 2016.
This year has proven to be a time of reaffirmed commitment to collaboration and progress that we have great hopes will continue as we work to help Canada meet its commitment to protect 30% of land and water across the country by 2030.
Thank you for all you have done in support of this decade of conservation.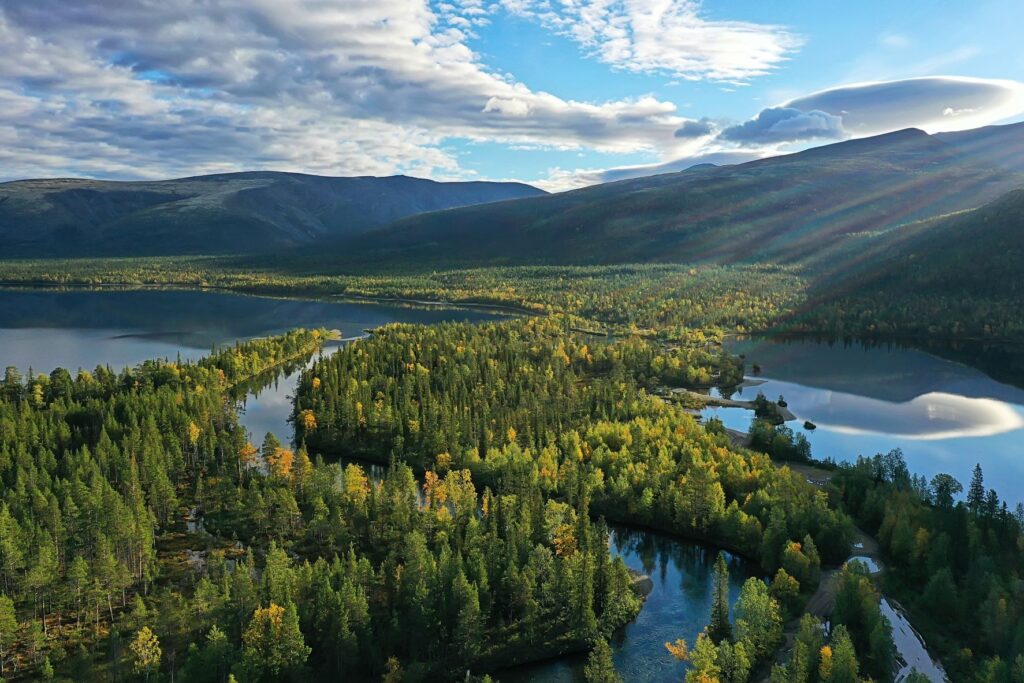 High-quality permanent protection is possible with investment and political will
This was a year driven by hope. A hope for collaboration, for investment, and for progress as Canada's reputation as a conservation leader was on the line.
When we released our Report Card in the spring of 2021, it was clear that a lack of provincial and territorial government commitment and action were major obstacles to Canada's failed effort to protect 17% of land and inland water by its 2020 deadline. Yet, we remained optimistic as Canada joined the Leaders' Pledge for Nature and committed to protect 30% of land and ocean by 2030. This promise, coupled with an historic budget investment of $3.2 billion for nature protection, signalled Canada was ready to rise to a new challenge.
As the year wore on, we saw provinces take steps to better protect caribou and invest in the establishment of conservation corridors. We celebrated the declaration of environmental and economic jurisdiction and protection of the Saskatchewan River Delta by the Cumberland House Cree Nation. We welcomed the largest protection of boreal forest in the world for which the Mikisew Cree Nation worked collaboratively with industry and the provincial government to achieve. Before the year was over, we saw a network for protected areas in Southern Quebec gain ground.
CPAWS has always been focused on knowledge-based advocacy, public education, and engagement, that are underpinned by collaboration and partnership. We are confident that when the provinces and territories support Indigenous leadership and work in partnership with one another and the federal government, we will see progress. We know the establishment of high-quality permanent conservation protection is possible with sustained investment, political will and cooperation.
The science is clear. Protecting land and ocean is vital to a world at risk of collapse from the twin crises of climate change and biodiversity loss. Both of these global catastrophes need Canada's leadership. CPAWS remains as committed as ever to helping our country lead by example by delivering on its international commitment to protect 30% of land and water in Canada. We can show the world that hope is in our nature.
Yours in Conservation,

Sandra Schwartz
CPAWS National Executive Director

Laura Colella
Chair and President, Board of Trustees
Financial Fitness
Again, this year, the CPAWS team demonstrated adaptability while working-from-home and identifying new funding avenues to bolster the ongoing generous support of our donors against pandemic-related financial uncertainty. The support from our donors barely wavered, as they provided to CPAWS $11,717,962 in funding allowing us to focus 73% of our spending exclusively on conservation. Our partners and stakeholders can be confident CPAWS remains financially stable and focused on our conservation mission.
PRIOR YEAR COMPARATIVE FIGURES UPDATE
In the prior year's audited financial statements, the externally restricted contributions contracted and disbursed to unincorporated chapters were included as revenue and conservation program expenses. To follow the deferral method of accounting for contributions for our unincorporated chapters, CPAWS revised the Statement of Operations for the prior year
to remove disbursements to its unincorporated chapters for externally restricted contributions from both revenue and expenses.
This revision has no impact on net revenue nor net assets. However, for year ended March 31, 2021, both revenue and expenses were reduced by $1,780,986. Our spending exclusively on conservation programs was also reduced to 75% (from 79% as reported in 2021 Impact Report).

Laura Cui
National Director, Finance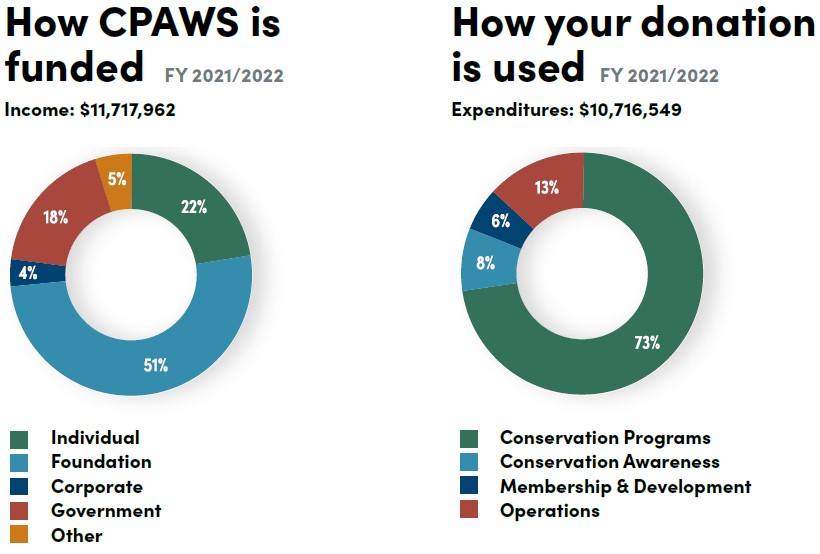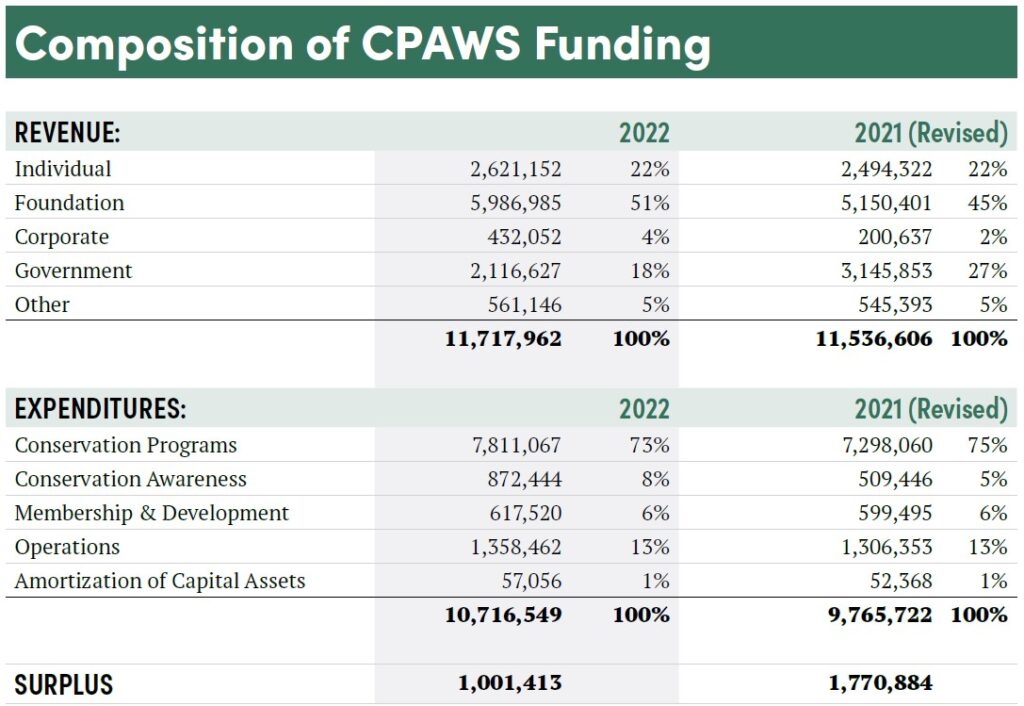 Honouring Our Donors
Thank you to those individuals, foundations, corporate donors, corporate partners, and organizations that demonstrated their leadership in our 2021-2022 fiscal year with gifts and contributions to CPAWS of $1,000 or more.
Individuals
Peter Achuff
Ellen Adelberg
Martha Ainslie
Kate Alexander
Dr. Judith Allanson
Rita E. Anderson
Lorene Archdekin
Susan Archibald
Bruce Bailey
Haak Bakken
J Kevin Barlow
Geoffrey Barrow
Keith Beckley
Diana L. Belhouse
Steve Bews
Michael Bingham
John Blachford
Richard and Fearon Blair
Malkolm Boothroyd
Ralph Boston
Francois and Lisa Bourgault
Wayne Buhr
Howard Burger
Bruce and Claudia Burns
Winifrede W. Burry
George D. and Martha Butterfield
John M. Calvert
Ken W. and Janet Campbell
Mike Campbell
Brian Carpenter
Dr. Vincent Castellucci and Dr. Lise Bernier
George Cates
Susan Cates
Dr. Nicolas Chagnon
Sarah Chan
Dr. William Cheyne and Dr. Rachel Carver
Dianne Chisholm
Rosaleen Chun
Ron Clark
Catharine Clayton and John Denholm
Michelle Cole
Laura Colella
Daralis J. Collins
Elizabeth Condliffe
Marilyn Cook
Dr. Matthew Cooper
Dudley Cordell
Robert D. Crockford
Bob and Gayle Cronin
Luke Crosby
Elizabeth Cross
Nancy and Leigh Cullen
Sheila Curran
Kelsey Currie
Nadine Currie Jackson
Shahin Dashtgard
Judith R. Davidson and Richard Beninger
Julie Davidson
Rosanne Dawson
Sophie DeCorwin
Lauren Dobell
Barbara Doherty
Mike Downes
Dr. Mary Jean Duncan
Janet and Paul Duval
Erin Eamer
James and Rebecca Ehnes
Victor Elderton
James E. Ellis
Alan Ernst
Alexander Ervin
Hannah Evans
Mark Ewald
Dr. Rachel Fainstein
Thomas R. Fath
Rosemary Feighan
Lorne Fitch
Ryan Fleisher
Sarah Flynn
Greg Fredeen
Leah Fritts
Catherine F. Fuller
Alaric Gair
John Gartner and Loretta Kampeas
Dr. Rosanne Gasse
Patti Gibbon
Susan Gibson
Carol Ann Gingras
John A. Gingrich
Guenther Golchert
Judith Golub
John Grandy and Meg Salter
Bill and Nancy Gray
John and Patricia Gray
Alex Grenzebach
Ben Gross
Ann Guthrie
Alison Hackney
Michael Haden and Johanne Drouin
Vincent and Elizabeth Hamacher
Sarah Hammond
Robinne J. Harcoff
Catherine A. Hardie
Ian Hardman
Gavin Harmacy
Stewart Harris
J. Brian and Elizabeth Haworth
Jacqueline Heard
Ole Q. Hendrickson
Dr. Doris Hessenthaler
Emily Hildebrand
Karen Hindle
D Jean Hopkins
Dr. Suann C. Hosie
Matthew and Aiyana Howatt
Hugues Imbeault-Tétreault
Ronald Innes
Lewis F. and Dale L. Jackson
Gordon James
Sabine Jessen
Dr. Marianne Johnson
Sue Johnstone
Dave Jones
Dan and Catherine Kaloutsky
Kris Kasawski
David W. Keith and Kirsten Anderson
Oliver Kent and Martine Jaworski
Neil Keown
Terry and Andrea Killackey
Robin W. Korthals and Janet Charlton
Robert Kosior
Mélissa Kucbel-Saumier
Robert Kyskan
Lori Labatt
Brian LaDuke
James G. Laidlaw
Charles Lalonde
David and Sally Lang
Jean Langlois
John Lawrence
Terry Layden
Alison LeDuc
Jennifer and Dave Leichnitz
Mark Levison
Wayne Liebau
Erik Lockeberg
Dr. Ann Loewen
Chris and Alison Longson
Alex and Tania Lothian
Jennifer Ludwig
Joel Luet
Sarah Lulman
Ian B. Mackenzie
Marlene P. and Alec MacKenzie
Ian Macleod
Adam Maki
Theodore and Connie Marras
Susan Marrier
Ryan Matheson
W. Maxwell
Donna and Peter Mayor
Patricia McCaig
Sheila and David McCracken
Allan McInnes
Catherine and William McLean
Donald S. McMurtry
Sam and Marie McNaughton
Diana and Duncan McNeill
Patrick and Kimberly McVeigh
Jonathan Mee
Michael Mee
Robert Mee
Jeffrey Mellor
Darrell J. Metka
Lana Mezquita
Dr. Gail and Daniel Michener
Benjamin Mills
Amy Mohr
Cheryl Molland
Fred and Jean Mooi
Sandra Mooibroek
Robert Daniel Moore
Lynn Morgan
Joanne Morrison
Bridey Morrison Morgan
Ken Murray
Drew Myers
Rosemary E. Nation
Susan Naylor
Keith and Phyllis Neufeld
Laura and Colin Newstead Jackson
Rowland Nichol
Joshua Nugent
Philip Nykyforuk
Dr. John and Sylvie O'Driscoll
Roberta Olenick
Catherine Ostler
Janice Palmer
Dr. Janice Pasieka
Dr. Joan Patterson
Paul Pearlman and Stephanie Soulsby
Richard Peckham and Maureen Nowlan
Dennis Perry and Susan Drury
Dr. Tom L. Perry
Wes Peters and Pamela Wright
Alan Philip
Brian and Diane Pinch
Philippe Poirier
Nicholas and Janis Poppenk
Mary Pushie
Dr. Saba Qayyum
Jeffrey Rambharack
Paul and Cindy Ramsden
Ken Richards
Richard B. Richardson
Hugh Richter and Gillian A. Holland
Meredith and Elliot Rodger
Lisa Rogers
Dr. Marion Rogers
Keith and Susan Rogers
Kate Ross
Mark Ross
Jonathan Rothschild
Michael Rudy
Dan Russell
Diane Sabourin
Adolf Saenger
Joan M. Sametz and Christopher Powers
Lea A. Sanderson
Kathy Scalzo
Duncan Scholtz
Tuula Schroderus
Daryl Sexsmith
Bruce Shaw
Doug Shaw
Michael Sherwood
Catherine A. and Robert Shields
Jean Simpson
David S. Sinclair
Jennifer Smith
Sandra Sokoloski
Karen Somerville and Alan Munn
Wendy and Bill Southall
Rodger Spring
Norm Stacey and Mary Hurlburt
Virginia Steel
Dr. Joan Stelling
Andrea and Michael Stewart
James and Barbara Stewart
Michael Stewart
Julie and James Strong
Desna Sulway
James Tasker
Heather Tausig
Patrick Terwoord
David G. Thomson
Richard and Lorna Townell
Donna Tribe
Philip Turnbull
Lynne Tyler
Erik and Gillian Val
Jean-Marie Van Der Maren
April Vande Beek
Diane Volkers
Dr. Nazneem Wahab
Susan J. Weedon
Mavis Wheatcroft
Dr. William Whitelaw
Mary Whitley
Jutta Wiemers
Joshua Wolfe
Dickson Wood
Alison and Stephen Woodley
David and Gail Wright
Peter L. Wright
Terence Wuerz and Jacquelyn Dirks
Brittney Wynnyk
Organizations
Country Day School County Corners
Ducks Unlimited Canada
Nature Canada
Oceans North
United Way East Ontario
Yellowstone To Yukon Conservation Initiative Society
Bequests
Estate of Alexandra Borowiecki
Estate of Teresa Jean Elizabeth Burke
Estate of Gustaf Mike Kelm
Estate of Deborah Kerridge
Estate of Ruth E. Styles
Estate of Colin Young
Businesses
Air Liquide Canada Inc.
Amer Sports
Arc'teryx
Aventure Écotourisme Québec
Baydome Investments Inc
CanTalk Canada Inc
College Sainte-Anne
Credit Union Central of Manitoba
Dr. Christiaan Avenant Inc
Earth Rated
Ecclesiastical
Emond Harnden
FedEx Corporation
Flyberta Fly Fishing
Harlequin Nature Graphics LTD
IBM Corporate Headquarters
Jam Direct Inc.
KEEN Footwear Canada Inc.
MEC
Muskoka Roastery
New Roots Herbal Inc.
Oakley & Oakley
Outdoor Research Inc
Patagonia
Project: PowHer Play Inc
RBC Wealth Management Canada
Soo Foundry & Machine 1980 Limited
Stealthwear Protective Clothing Inc.
Superfeet Canada
The Body Shop Canada Ltd.
VF Outdoor, LLC (Smartwool)
Water Street Engineering Ltd.
Government
Employment and Social Development Canada
Environment and Climate Change Canada
Department of Fisheries and Oceans
Foundations
444S Foundation
Abundance Canada
Alberta EcoTrust Foundation
Allan and Gill Gray Philanthropies
All One Fund
Alpema Foundation
Aqueduct Foundation
BENEFACTION
Boje Family Fund
Brien Timlin Foundation
Butterfield Family Foundation
Canada Gives
Canadian National Christian Foundation
Canadian Online Giving Foundation
Charitable Impact Foundation
Cinders Fund
Community Foundation for Kingston & Area
CPAWS Fund
Dianne Saxe Non-Endowed Fund
Donner Canadian Foundation
Dr. Rene and Carol Weber Foundation
Earth Rangers Foundation
Echo Foundation/Fondation Écho
Edmonton Community Foundation
Fall Line Initiatives Fund
Ernst and Elfriede Frank Foundation
Fiera Capital Foundation
Gordon and Betty Moore Foundation
Jack MacKenzie Charitable Foundation
James and Phillippa Kerr Fund
Jewish Community Foundation of Montreal
Ken Harris Family Foundation
Lamberton Family Trust Fund
Leacross Foundation
Link Charity Canada Inc.
MakeWay Foundation
MEC Annual Fund
MEC Endowment Fund for the Environment
Metcalf Foundation
Nancy Bradshaw and Robert Brown Fund
Panoram Foundation
Patrick E. Fuller Foundation
PayPal Charitable Giving Fund
Private Giving Foundation
Public Voice Fund
Raschkowan Foundation
RBC Foundation
Resources Legacy Fund
Shamrock Foundation
Small Change Fund
Strategic Charitable Giving Foundation
T/Gear Foundation
The Annual Foundation
The Auxilium Foundation
The Bradstreet Foundation
The Calgary Foundation
The Cardinal Foundation
The Charitable Gift Funds Canada Foundation
The Chawkers Foundation
The Clayton Denholm Family Fund
The Consecon Foundation
The Edith Lando Charitable Foundation
The Fanwood Foundation
The Hindle Family Foundation
The JB Doherty Family Foundation
The John and Sheila Price Family Fund
The Mactaggart Third Fund
The McLean Foundation
The Mireille and Murray Steinberg Family Foundation
The Pew Charitable Trusts
The Schad Foundation
The UK Online Giving Foundation
Tides Foundation
Toronto Foundation
United Jewish Foundation of Greater Toronto
Vancity Community Foundation
Vancouver Foundation
Weppler Family Foundation
Viewpoint Foundation
Winkler Family Foundation
Wilburforce Foundation
Windward Fund
Wyss Foundation