Canada's forests, grasslands, wetlands and ocean are part of the climate change solution. These ecosystems help to mitigate the impacts of climate change by absorbing greenhouse gas (GHG) emissions. Learn more about how Canada can prevent further biodiversity loss and improve our resilience to climate change by protecting natural ecosystems in our 2019 Climate Report.
Join the movement to protect 30% of land and ocean in Canada by 2030.
Biodiversity
A term that encompasses all living things on the planet, including humans, other animals, plants and species that are too small to be seen by the human eye.
Ecosystem Emissions
The release of greenhouse gases (GHGs) when an activity disturbs carbon stored in biological sinks, such as soil or trees.
Natural Infrastructure
Ecosystems, such as wetlands, grasslands and forests, that can protect communities from climate change impacts and decrease the need for more built infrastructure to accomplish this. Natural infrastructure can reduce flood and drought risks and improve water quality and food security, as well as provide greenhouse gas (GHG) emission reduction benefits.
Nature-Based Climate Solutions
Actions to manage ecosystems such as forests and wetlands in a way that reduces climate change impacts and benefits biodiversity. Nature-based climate solutions may mitigate climate impacts in multiple ways, including increasing human resilience to climate change.
Climate change and biodiversity loss are two of the biggest global crises. Both are caused by activities such as industrial farming, logging, mining, hydro-electric development and oil and gas exploration. Each crisis also exacerbates the other, with climate change causing populations and entire species to go extinct, and the loss of biodiversity making ecosystems more vulnerable to climate change.
The Intergovernmental Panel on Climate Change (IPCC) estimates that a 1.5° C increase in the global average temperature will put 20-30% of the world's species at risk of extinction. Canada has already experienced a 1.7° C increase in temperature since 1948 — twice the global average. We must significantly reduce our greenhouse gas emissions in order to prevent a further increase in temperature and avoid the environmental changes that would come with it.
Canadian governments at all levels have pledged to both reduce the GHG emissions causing climate change and step up measures to protect biodiversity. If the federal government meets its commitment under the Paris Agreement to reduce GHG emissions to 30% below 2005 levels by 2030, Canada's ecosystems will experience greater stability and better support biodiversity. Nature-based solutions, including natural infrastructure, will be an important part of the process.
Solutions
Prioritizing biodiversity and climate resiliency in the creation and management of terrestrial and marine protected areas
Keeping track of emissions produced from terrestrial and marine ecosystem degradation and identifying public and private sector players who produce the greatest portion of these emissions
Imposing a cost for ecosystem emissions on identified major emitters through the Greenhouse Gas Pollution Pricing Act
Requiring federal agencies to ensure their proposed climate solutions take both ecosystem emissions and impacts on biodiversity into account
Developing rules for assessing emissions reductions, nature-based climate mitigation options and biodiversity impacts of proposed climate solutions
Starting a Nature-Based Climate Solutions Fund to invest in activities that aim to reduce emissions from land-use change and ecosystem degradation while providing benefits to biodiversity
Using the National Infrastructure Assessment to to establish a baseline of the current knowledge and implementation of natural infrastructure, prioritize the delivery of high-quality and cost-effective services via natural infrastructure and systematically review ways to minimize the negative impacts of grey infrastructure on biodiversity and ecosystem services
What CPAWS is Doing
Making linkages between nature-based climate solutions and natural infrastructure and a Green Recovery for Canada
Working with government, Indigenous and industry partners across Canada to design and implement programs that support nature-based climate solutions and natural infrastructure
Working with Indigenous, industry and municipal government partners on developing and implementing nature-based climate solution and natural infrastructure projects across Canada
Working to help Canadians better understand what nature-based climate solutions are
Tracking federal government actions on nature-based climate solutions
Our Successes
July 2020 – The Strategic Assessment of Climate Change was published. This is a new impact assessment system for projects that includes assessing the current and potential impacts of land-use change and associated GHG emissions.
June 2020 – The federal government published Carbon Pollution Pricing: Considerations for Protocol Development in the Federal Greenhouse Gas Offset System, which includes nature-based climate solutions.
April/May 2020 – CPAWS, along with other members of the Green Budget Coalition, put forward Recommendations for Budget 2020 to Infrastructure Canada addressing the climate emergency, nature conservation and biodiversity, sustainable agriculture and managing toxic substances such as pesticides. CPAWS was also one of more than 40 organizations to call on the Prime Minister and key federal ministers to prioritize natural infrastructure in Canada's green recovery.
Late August 2019 – Our report, Finding Common Ground: Six Steps for Tackling Climate Change and Biodiversity Loss in Canada, was released, setting the stage for our role in many future climate change initiatives. In September 2019, the Liberal party committed to creating a $3 billion fund to be disbursed over 10 years for reducing Canada's emissions by 30 megatonnes by 2030.
Early August 2019 – Our Recommendation for a Nature-Based Climate Solutions Fund was published, which would form the basis of our 2019 climate change report.
2018 – The federal government started to incorporate GHG emissions and carbon storage into reports, including the 2018 Greenhouse gas and air pollutant emissions projections and Canada's Fourth Biennial Report on Climate Change, which highlights the use of nature-based climate solutions to reduce emissions.
2016 – The Pan Canadian Framework on Clean Growth and Climate Change was adopted, with land-use change and emissions management as priorities. CPAWS provided Recommendations for Nature-Focused Solutions to Climate Change to inform this framework.
Resources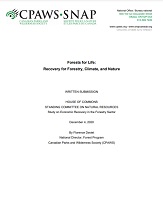 December 2020 – Forests for Life: Recovery for Forestry, Climate, and Nature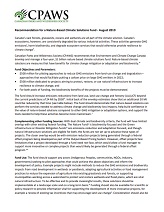 August 2019 – CPAWS' Recommendation for a Nature-Based Climate Fund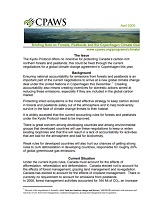 April 2009 – CPAWS' Public Forest Carbon Briefing Notes
The Latest Blogs on Climate Change
December 15, 2022 – Unceded territory of the Kanien'keha:ka – Montreal. Today at a COP15 panel hosted by Nature Canada in Montreal, Steven Guilbeault, Minister … Read More