Roadmap to 2030: Delivering on Canada's Land and Ocean Protection Targets
Introduction and Background
The Canadian Parks and Wilderness Society (CPAWS) has for the first time released a report that sets out a pathway to get the country to within striking distance of its commitment to safeguard 30% of land and ocean in Canada by the end of the decade.
This Roadmap identifies dozens of opportunities for protection across Canada, both on land and in the ocean, that include ongoing or already committed-to land use and/or conservation planning processes, including many Indigenous-led conservation initiatives. If all the prospective sites are approved and designated by 2030, the country would more than double currently protected land from 13.5% to 29.3% – just shy of the 30% target – and marine protected areas would increase from 13.9% to 30.4% – surpassing the 30% target.
Consistent with past findings in CPAWS' 2021 Report Card, the Roadmap points to the biggest challenges being a lack of political will from provinces and territories in key areas of opportunity across the country for terrestrial conservation. The lack of permanent funding to support protection of these areas in the long term remains an issue for both land and ocean conservation.
CPAWS is committed to supporting all governments in Canada on their collective journey to protect 30% of the country's land and ocean by 2030, and beyond.
Join the movement to protect at least 30% of Canada's land and ocean by 2030.
Opportunities for Land Protection Across Canada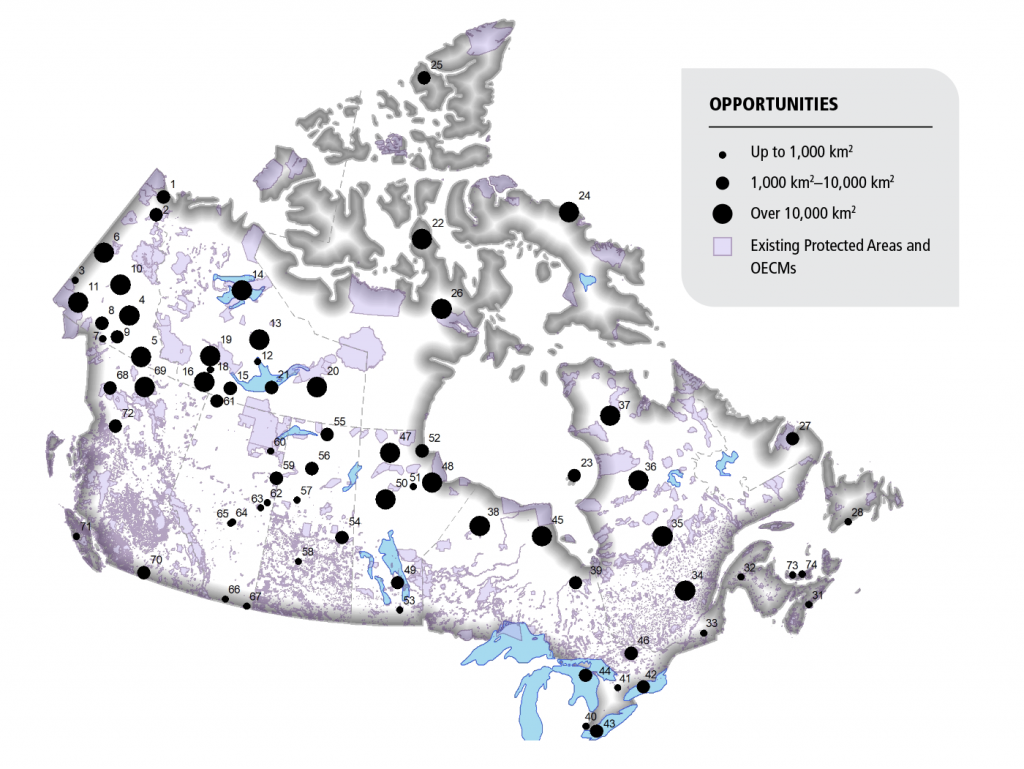 This report analyzes how federal, provincial, and territorial governments can meet Canada's commitment to protect 30% of land and ocean by 2030. It summarizes opportunities, challenges, and actions needed in each province and territory to implement this pan-Canadian commitment. Our analysis found that more than 29% of land and over 30% of ocean in Canada can be protected by 2030 by supporting and implementing existing land and ocean protection projects and opportunities, in particular Indigenous-led conservation initiatives.
[expand title="Read More …"]
This report demonstrates that achieving Canada's land and ocean protection targets is realistic and possible if all relevant agencies and governance partners, including governments at the provincial and territorial level, demonstrate the necessary political will to deliver. The report also demonstrates the importance of focusing not only on how much land and ocean is conserved, but on which areas to protect and what measures to take to ensure they are effectively protected in the long term.
Protected Areas as an Evidence-Based Solution to the Nature and Climate Emergency
Habitat loss and fragmentation from human activities are the primary causes of the rapid decline of biodiversity and the resulting Nature Emergency, with climate change growing in significance. Well-designed and managed protected areas are scientifically proven to be effective in conserving nature. Protected areas also play an important role in mitigating and adapting to climate change, sustaining our well-being and the economy, making them a critical investment for ensuring a healthy and resilient future for all Canadians.
Increasing Ambition, Both in Canada and Around the World
Over the past five years, momentum for greater nature conservation action has been building in Canada and globally, with more financial investment, more ambition, and larger area-based conservation targets on both the national and international agendas. While this offers some hope, much remains to translate this ambition into conservation action to halt and reverse nature's steep decline. The year 2022 will be critical, as countries finalize a new Global Biodiversity Framework under the United Nations Convention on Biological Diversity (CBD). Over 100 countries support a global target of conserving at least 30% of land and ocean by 2030. Canada has committed to implementing this target at the national level and has adopted an interim target of protecting 25% of land and ocean by 2025.
Where Canada Currently Stands
Currently, 13.5% of land and 13.9% of ocean in Canada is protected.1 The percentage of land protected varies greatly by jurisdiction, ranging from 4.5% of Prince Edward Island to 19.1% of the Yukon. Provincial and territorial governments will need to step up in order to meet the 30% land target, recognizing they are the Crown governments in Canada with primary jurisdiction over land and natural resources. Indigenous governments across Canada have consistently stepped forward with leading-edge landscape and seascape-level plans and initiatives to conserve their traditional territories, bringing together western science and Indigenous knowledge. Support for Indigenous-led conservation is critical to deliver on the targets.
After a slow start, Canada has made considerable progress on marine protection – going from less than 1% of its ocean estate protected in 2015 to 13.8% in 2019.2 In doing so, the federal government showed that ambitious conservation targets are achievable with strong political leadership, investment, and a willingness to take quick and decisive action. This effort also required strengthening legal tools to support effective and efficient conservation measures and, in some cases, developing new tools like interim protection. However, there are some questions about how well protected some of these marine sites are. A 2021 assessment by CPAWS found that the majority of Canada's federally designated marine protected areas are weakly protected.3
The Path Forward to Meeting Canada's Protection Targets
This report identifies many opportunities in each province and territory that, if implemented, will put Canada on the path to achieving its terrestrial conservation targets. Although the federal government has limited jurisdiction to establish terrestrial protected areas, and can only do so in collaboration with provincial and territorial governments and Indigenous Peoples, a federal terrestrial section is included listing opportunities and recommendations that are within the mandate of the federal government.
The report also highlights ocean conservation opportunities. Canada has already demonstrated that it can act quickly on ocean protection, and while the 30% target represents another considerable leap, the 2021 federal budget commitment of $977M means that Canada is now starting with far more resources and capacity than it has ever had before. Opportunities for conservation exist across Canada's Arctic, Atlantic, and Pacific coasts. At present, very large proposed and interim protected areas in the Arctic contribute over 8% to Canada's protected area targets.4 Looking forward, particular focus should be paid to areas that are experiencing the greatest loss of biodiversity, including ecologically important and carbon-rich coastal and nearshore areas.
In seven provinces and territories (the Yukon, Northwest Territories, Nunavut, Quebec, Ontario, Manitoba, and British Columbia) existing terrestrial opportunities have been identified that could get them close to 30% protection. These opportunities include ongoing or already committed-to land use and/or conservation planning processes, as well as Indigenous-led conservation initiatives. Although significant potential for area-based opportunities exists in Saskatchewan and Alberta, these opportunities are currently challenged by a lack of political will.
Although small in size and limited in public land area, Nova Scotia has been at the forefront of terrestrial conservation in Atlantic Canada, and in 2021 committed to a new conservation target of protecting at least 20% of the province by 2030. New Brunswick has undertaken a province-wide planning process to achieve its relatively smaller target of protecting 10% of its land, but its momentum has been stalled. Newfoundland and Labrador is negotiating a Nature Agreement with the federal government, which is likely to kick-start conservation projects across the province.
Conservation Targets Include Quantity and Quality
Research shows that at least 30%, and up to 70%, of land and ocean ecosystems need to be conserved to sustain a healthy planet and secure essential ecosystem services for people.5, 6, 7 There is also clear evidence that focusing only on how much area should be protected is not enough to deliver conservation outcomes and other societal benefits. The quality of protected areas is just as important, as well as ensuring the areas are effectively connected as conservation networks and that land and ocean areas outside protected areas and other effective area-based conservation measures (OECMs) are managed sustainably.
Conservation Takes Time – Governments Need to Act Now
Delivering on the goal of 30% protection by 2030 requires ramping up action now, to allow enough time for planning that includes knowledge gathering and relationship-building, including in-depth engagement of communities, and other work needed to achieve successful and broadly-supported conservation outcomes.
CPAWS is Ready to Support All Governments on the Path to Protection
For nearly 60 years, CPAWS has supported hundreds of conservation initiatives and has helped establish protected areas throughout Canada. With this unwavering commitment to conservation, we endeavor to support all governments in Canada on their collective journey to protect 30% of the country's land and ocean by 2030, and beyond. This report will help guide conservation work across the country by offering a list of opportunities in each jurisdiction as a roadmap of the urgent actions needed to deliver on Canada's targets.
1 Environment and Climate Change Canada. (2022). Canadian Protected and Conserved Areas Database. https://www.canada.ca/en/environment-climate-change/services/national-wildlife-areas/protected-conserved-areas-database.html
2 Canadian Parks and Wilderness Society. (2021). Assessing Canada's Marine Protected Areas. https://cpaws.org/wp-content/uploads/2018/02/CPAWS-MPA-Monitor-2021-EN-for-publication.pdf
3 Canadian Parks and Wilderness Society. (2021). Assessing Canada's Marine Protected Areas. https://cpaws.org/wp-content/uploads/2018/02/CPAWS-MPA-Monitor-2021-EN-for-publication.pdf
4 Canadian Parks and Wilderness Society. (2021). Assessing Canada's Marine Protected Areas. https://cpaws.org/wp-content/uploads/2018/02/CPAWS-MPA-Monitor-2021-EN-for-publication.pdf
5 Woodley, S., Locke, H., Laffoley, D., MacKinnon, K., Sandwidth, T., & Smart, J. (2019). A Review of Evidence for Area‐Based Conservation Targets for the Post‐2020 Global Biodiversity Framework. PARKS 25 (2): 31- 46. https://parksjournal.com/wp-content/uploads/2019/12/PARKS-25.2-Woodley-et-al-10.2305-IUCN.CH_.2019.PARKS-25-2SW2.en_.pdf
6 Dinerstein, E., Olson, D. Joshi, A., Vynne, C., Burgess, N., Wikramanayake, E., Hahn, N., Palminteri, S., Hedao, P., Noss, R., Hansen, M., Locke, H., Ellis, E., Jones, B., Barber, C., Hayes, R., Kormos, C., Martin, V., Crist, E., Sechrest, W., Price, L., Baillie, J., Weeden, D., Suckling, K., Davis, C., Sizer, N., Moore, R., Thau, D., Birch, T., Potapov, P., Turubanova, S., Tyukavina, A., de Souza, N., Pintea, L., Brito, J., Llewellyn, O., Miller, A., Patzelt, A., Ghazanfar, L., Timberlake, S., Klöser, H., Shennan-Farpon, Y., Kindt, R., Lillesø, J., van Breugel, P., Graudal, L., Voge, M., Al-Shammari, L., & Saleem, M. (2017). An ecoregion-based approach to protecting half the terrestrial realm. Bioscience 67(6): 534–545. https://doi.org/10.1093/biosci/bix014
7 Baillie, J., and Ping Zhang, Y. (2018). Space for nature. Science 361: 6407. https://doi.org/10.1126/science.aau1397
[/expand]
Federal Government – Land and Freshwater
The Federal Government Sets, Champions, and Works to Support Ambitious Protection Targets
The federal government continues to demonstrate leadership in conservation by committing to halt and reverse biodiversity loss by 2030, setting ambitious land and ocean protection targets for the country and championing these internationally, supporting Indigenous-led conservation, and investing significantly more funding to support implementation of these commitments. The federal government announced an additional $2.3B in Budget 2021 for terrestrial conservation, building on an historic $1.3B investment in Budget 2018.
Federal Government – Ocean
The Federal Government Makes Significant Progress on Marine Protection Through Investment and Collaboration with Indigenous Partners
In 2019, after four years of accelerated efforts to meet its target of conserving 10% of marine and coastal territory by 2020, Canada announced it had protected over 13% of its ocean. Buoyed by this success, Canada has an ambitious new target of halting and reversing biodiversity loss and protecting 30% of the ocean by 2030, with a milestone target of 25% by 2050. Canada has shored up these commitments with an historic investment in of $977M for ocean protection in the 2021 federal budget. To galvanize its burgeoning role as a global leader on ocean protection, Canada has also joined the prestigious Global Ocean Alliance and is hosting the 5th International Marine Protected Area Congress (IMPAC5) in 2023.
Notably, since 2019, agreements have been signed with Indigenous partners to conduct feasibility studies for three possible new national marine conservation areas. Additionally, a proposed new marine protected area and new other effective area-based conservation measures are both nearing establishment in the Maritimes. Work continues on several other protected areas across Canada's ocean estate.
The Yukon
The Yukon is Leading the Way for Conservation in Canada
As of February 2022, the Yukon is now a conservation leader in Canada. With the addition of 37,000 km2 of the Peel River Watershed to Canada's protected areas system, the territory now has a greater proportion of its land and water protected than any other jurisdiction in the country.*
Final Agreements (modern treaties) signed by many Yukon First Nations outline a land use planning process which, together with other existing processes, provides a clear path to achieving large-scale protection throughout the territory. While the Government of Yukon has not formally adopted conservation targets, the Territory is nonetheless on track to achieve 30% protection by 2030.
*These areas have been recognized as having "interim protection" in Canada's protected area database, meaning the decision has been made, and measures are in place, to protect the areas, but work to complete the final legal designations is still ongoing.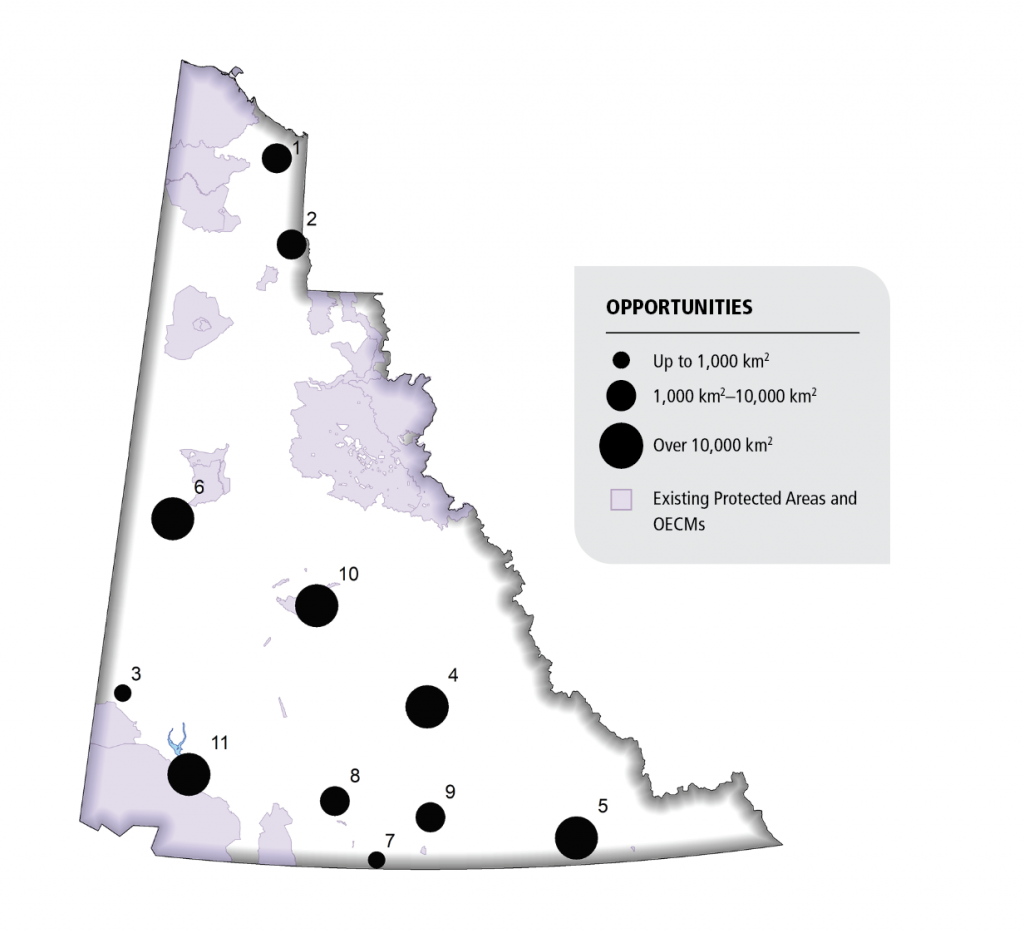 Northwest Territories
The Northwest Territories Can Offer Strong Support for Indigenous-Led Conservation
With a strong legal framework in place that supports Indigenous Protected and Conserved Area partnerships, the Government of Northwest Territories (GNWT) is well positioned to facilitate Indigenous-led conservation. Regional land use plans in the Dehcho and Akaitcho regions can contribute substantially to regional and national conservation goals as well.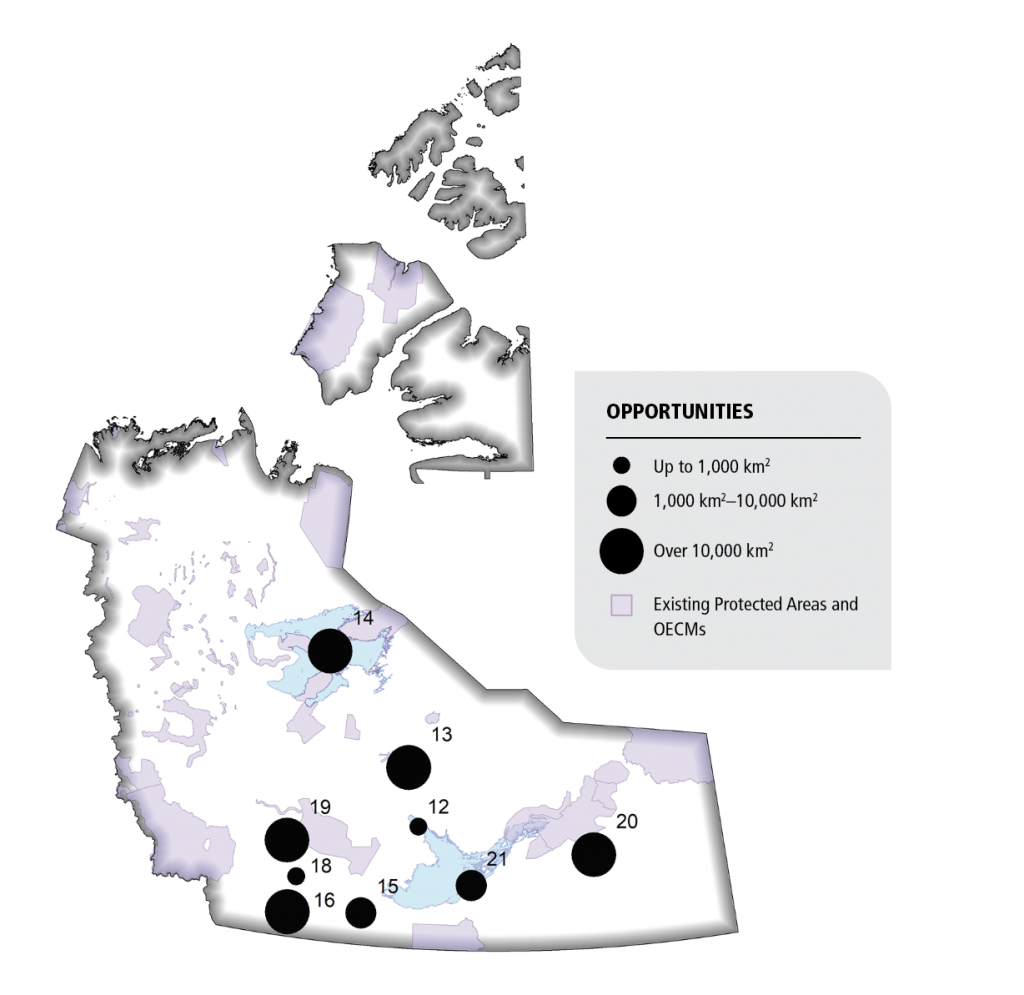 Nunavut
Inuit-Led Initiatives and the 2021 Nunavut Land Use Plan Offer Significant Conservation Opportunities
Two vast new marine protected areas have been created in Nunavut in recent years. Building on this progress, more than 400,000 km2 of land could be added to Nunavut's conservation network by completing existing protected area proposals and approving the draft Nunavut Land Use Plan.*
The federal government has a particularly significant opportunity to advance conservation in Nunavut by supporting Inuit-led conservation and stewardship initiatives, approving the 2021 Nunavut Land Use Plan, and investing in associated economic opportunities for communities.**
*From ecological and Indigenous perspectives, land and ocean together comprise one integrated ecosystem, and many Nunavut planning processes reflect this interconnectedness. Thus, some initiatives are included in both the land and ocean sections of this report.
**The federal government still has significant jurisdiction over land management in Nunavut because, unlike the Yukon and the Northwest Territories, authority over land and resources has not yet been devolved to the territorial government.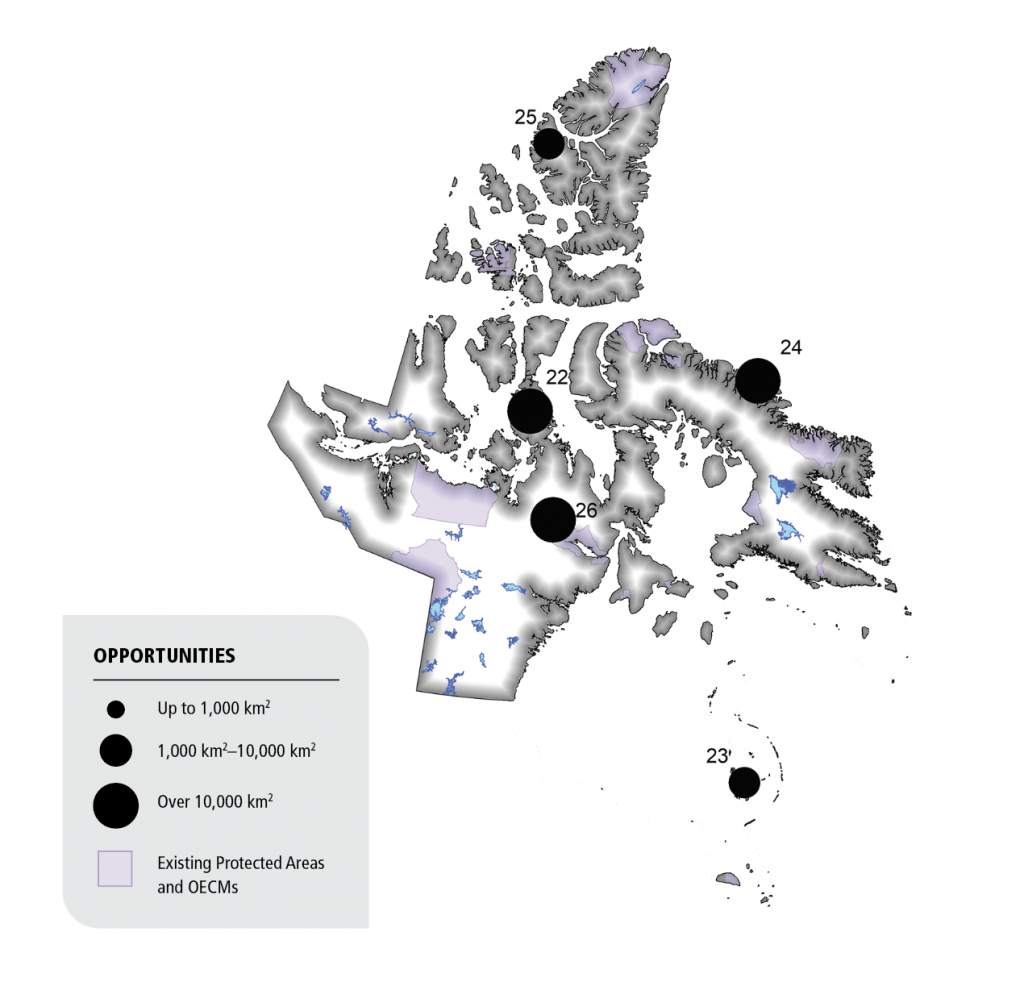 British Columbia
British Columbia Has Extensive Opportunities for IPCAs, but its OECMs Must Meet Quality Standards
The Government of British Columbia has no standing commitments to land protection targets, and has made limited progress in recent years on area-based conservation. In 2021, British Columbia was the first province to begin negotiating a Nature Agreement with the federal government (this agreement is the precursor to receiving new federal funding for nature conservation). British Columbia has claimed 4.1% of the province as protected under other effective area-based conservation measures (OECMs). This is the highest percentage of area counted as OECMs in Canada. Unfortunately, B.C.'s claimed OECM areas do not meet international or Canadian quality standards.
**Canadian Parks and Wilderness Society. (2022). An Honest Accounting: Improving BC's Approach to Claiming Other Conserved Areas. https://cpawsbc.org/wp-content/uploads/2022/02/22-02-04-OECM-report-%C6%92-reduced-1.pdf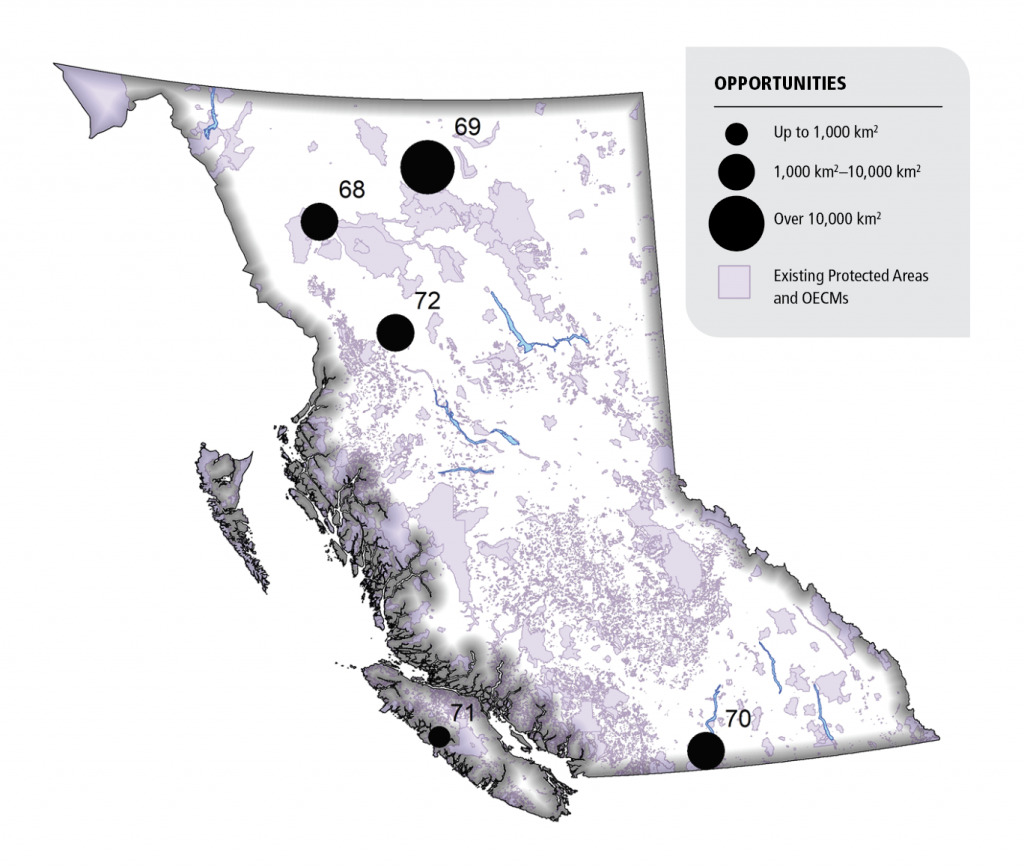 Alberta
Alberta Must Also Prioritize Conservation – Not Only Resource Extraction
The Government of Alberta has no active commitments to conservation targets, and has been, until recently, exploring and promoting policies and actions that diminish protections of protected areas and threaten natural ecosystems. In February 2022, thanks to continued pressure from the Mikisew Cree First Nation and its partners, Alberta's Kitaskino Nuwenëné Wildland Provincial Park was expanded by 1,525 km2, bringing its total area protected to 15.6% of the province. In addition to existing area-specific opportunities identified below, Alberta has vast ecologically and culturally important areas that have high potential for protection if political will exists. Polling indicates that the majority of the Albertans support increasing protections and government working with Indigenous governments and communities on new protected areas.*
*Yellowstone to Yukon Conservation Initiative. (2021). Creating Jobs and Conserving Nature: Albertans say Province Must do Both. https://y2y.net/blog/new-polling-reaffirms-albertans-support-of-conservation/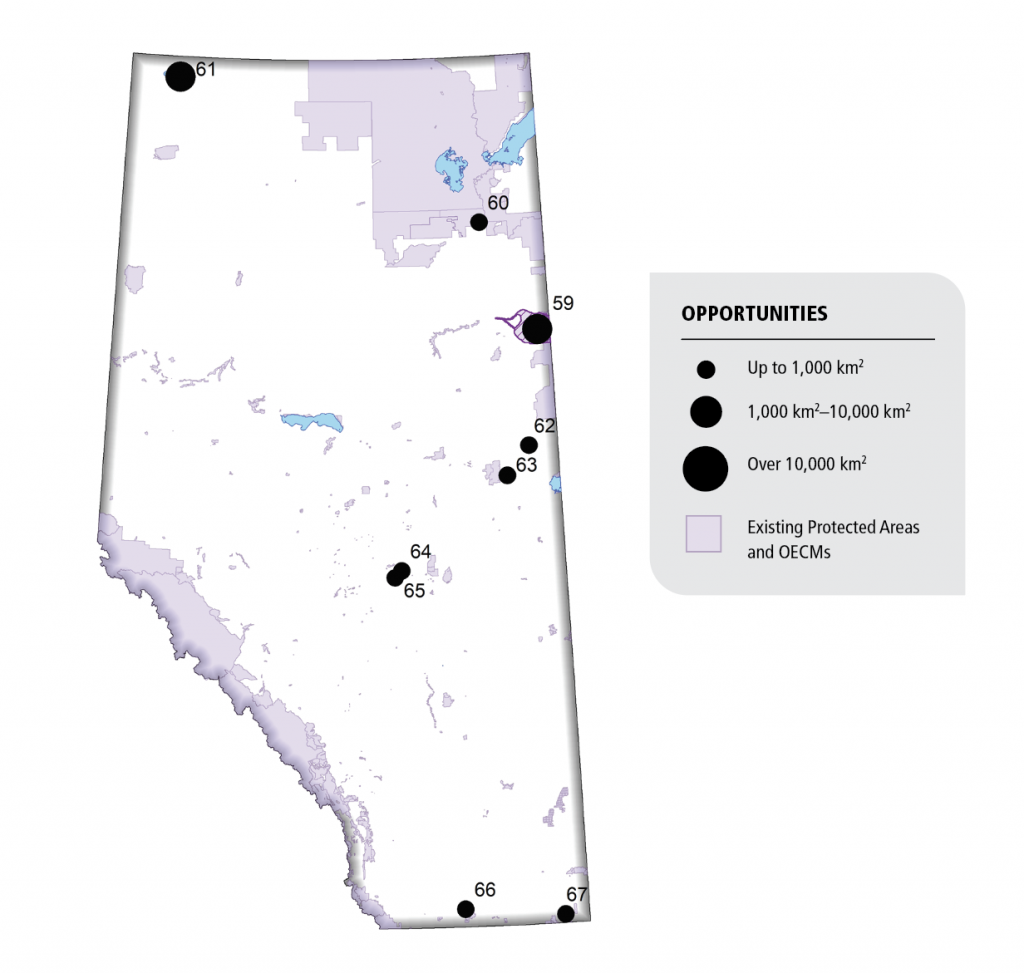 Saskatchawan
Saskatchewan Must Update its Protection Target and Approach to Indigenous Protected and Conserved Areas
The Government of Saskatchewan has no recent conservation commitments beyond a 30-year-old target of protecting 12% of the province. Furthermore, while the provincial government has signalled its interest in IPCAs, its approach to date is out of step with the fundamental principle that IPCA establishment and management should be Indigenous-led, with Indigenous Peoples having the primary role in determining objectives, boundaries, and governance structures.*
*Indigenous Circle of Experts. (2018). We Rise Together: Achieving Pathway to Canada Target 1 through the creation of Indigenous Protected and Conserved Areas in the spirit and practice of reconciliation.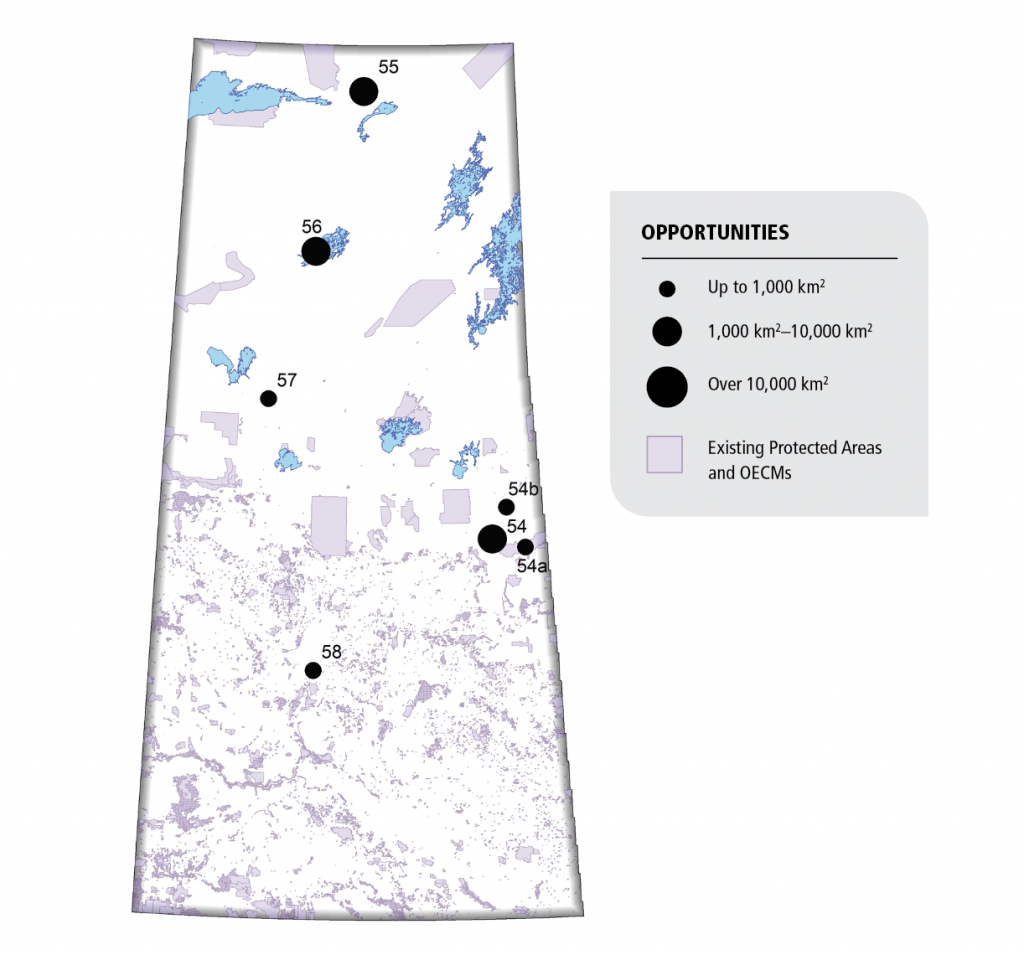 Manitoba
Manitoba Must Reassess the Value of Maintaining Public Protected Areas
The Manitoba government has no current conservation targets. Furthermore, it has signalled an interest in decommissioning some provincial protected areas and exploring new financial models, including the privatization of management or ownership by third-party entities. The campground in St. Ambroise provincial park was recently privatized, which resulted in tripling the cost of camp fees.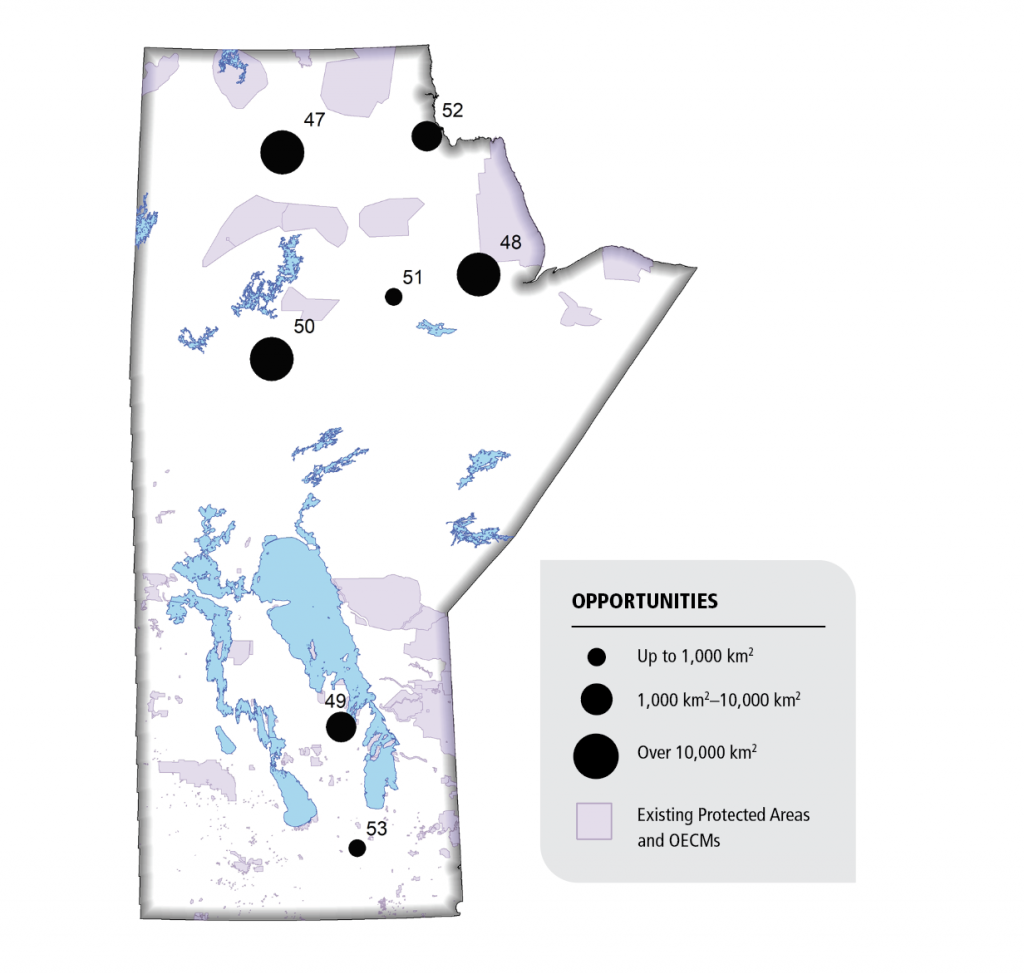 Ontario
Lack of Political Will is Blocking Opportunities for New Protected Areas in Ontario
The Government of Ontario has not committed to meeting international conservation targets. In recent years, Ontario has rolled back environmental safeguards to facilitate development, including by weakening the Endangered Species Act and Environmental Assessment Act.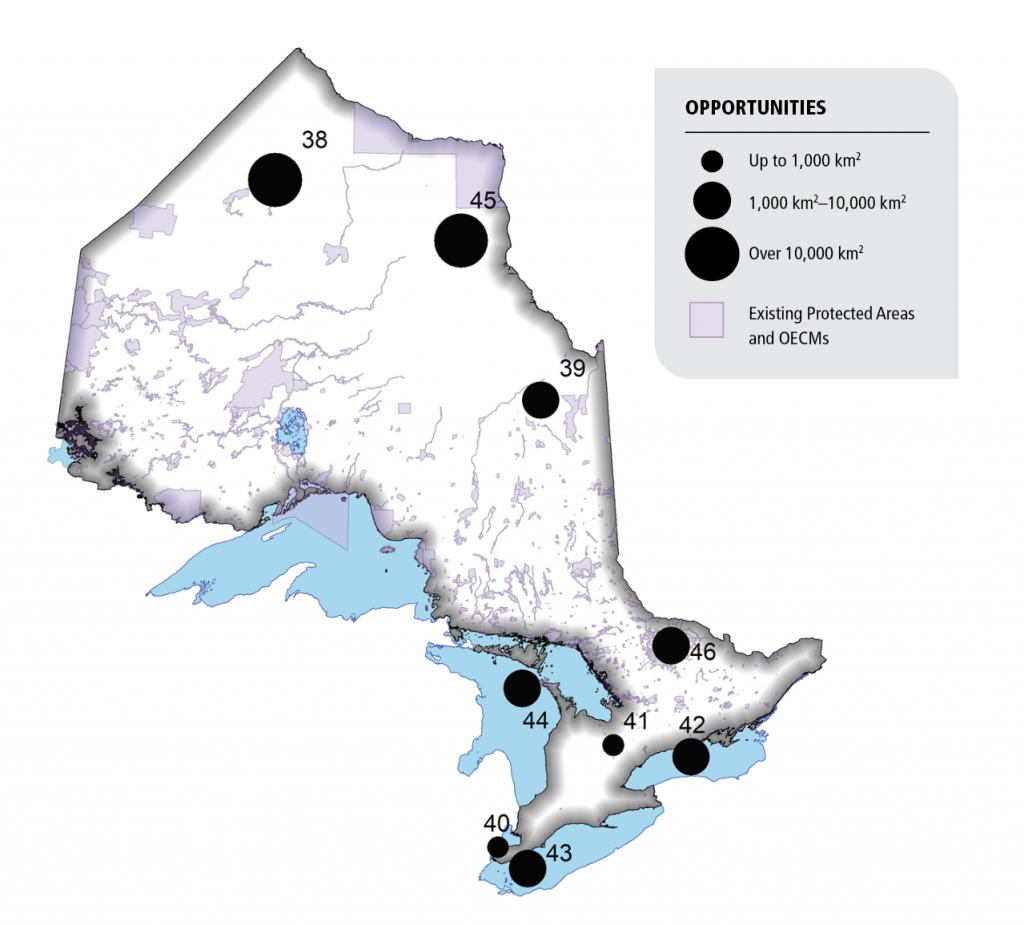 Quebec
Quebec Recognized Nationally and Internationally for Setting and Meeting Protection Commitments
The Government of Quebec has been hailed as a leader both in Canada and internationally for largely fulfilling its commitment to protect 17% of the province's land base and 10% of ocean area by 2020, and then committing to the target of protecting 30% of land and ocean by 2030. Since 2021, the Government of Quebec has protected an additional 300 km2 in southern Quebec and supported conservation efforts of municipalities and local groups.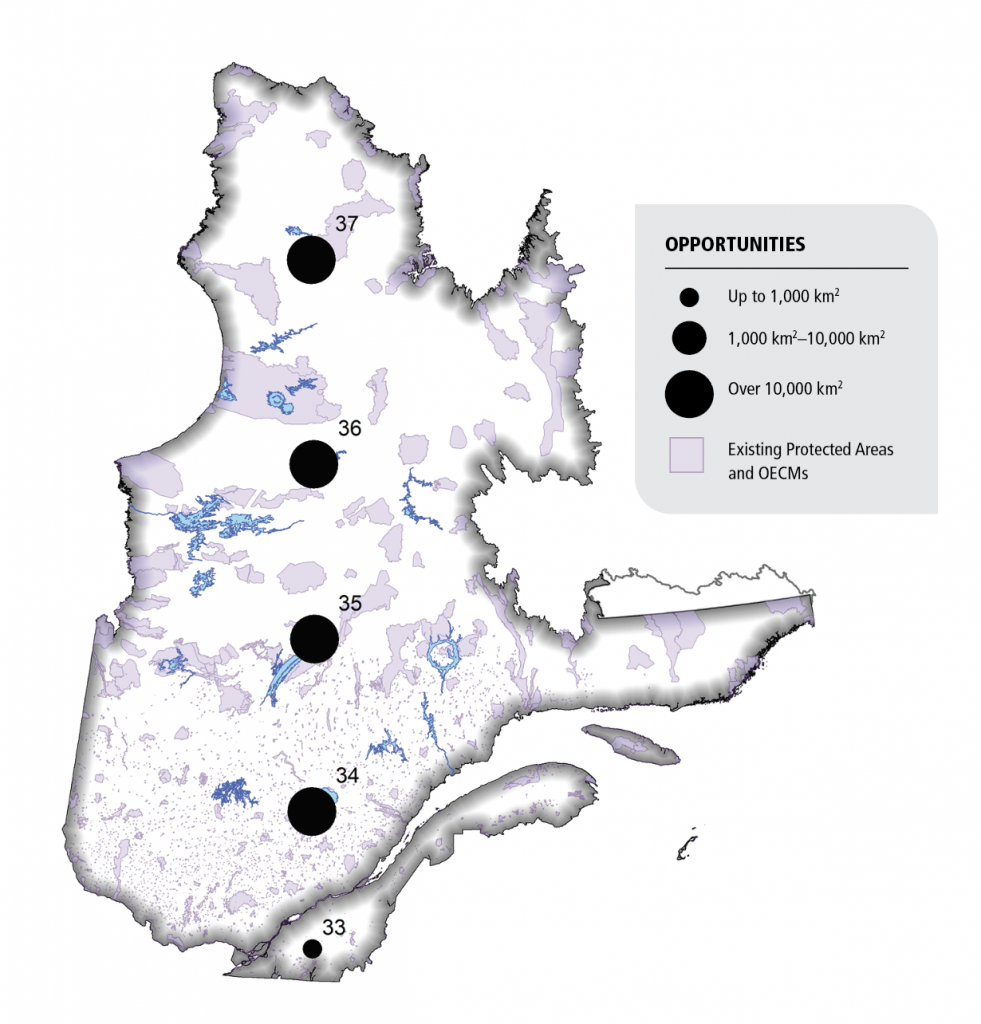 New Brunswick
New Brunswick Can Protect 10%, and More, of its Land and Freshwater
In 2019, the Government of New Brunswick committed to doubling its protected areas system to cover 10% of the province's land and freshwater by 2020 through the Nature Legacy Initiative. The Government of New Brunswick has made no formal commitments or plans to move beyond the 10% target.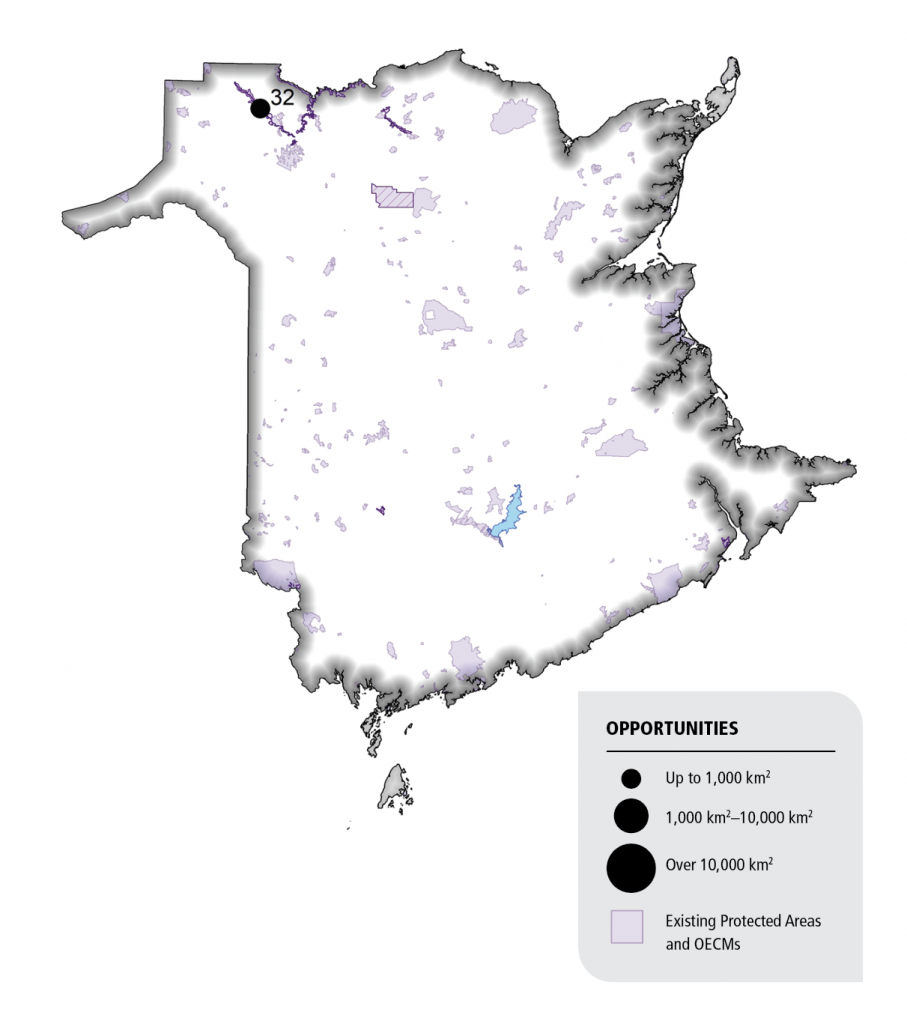 Nova Scotia
Nova Scotia Works Towards Protecting at least 20% of its Land
In November 2021, the Nova Scotia government passed new environmental legislation which increased its protected areas target to at least 20% of the provincial landmass by 2030, including Indigenous Protected and Conserved Areas and consistent with national reporting criteria. The new law also commits the province to publicly release a new, collaborative protected areas strategy by the end of 2023.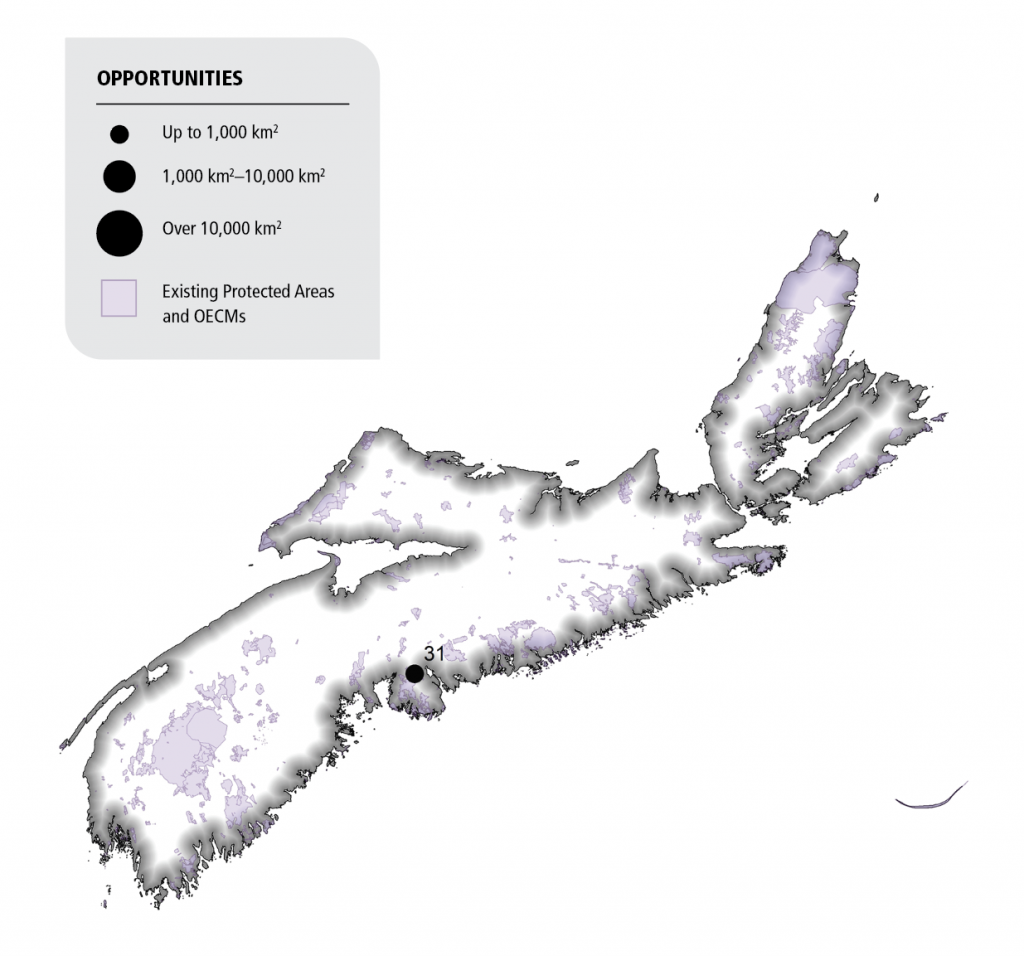 Newfoundland and Labrador
Newfoundland and Labrador in Negotiation for a Nature Agreement
The Government of Newfoundland and Labrador has not committed to a specific conservation target or set timelines to advance protected areas within the province. However, in the Spring 2022, the federal government initiated the process of negotiating a Nature Agreement between the two governments, which should facilitate nature-related discussions, including on new protected areas and habitat protection for species at risk and migratory birds. The agreement could also help advance consultations on the Protected Areas Plan for the island of Newfoundland, which is currently stalled.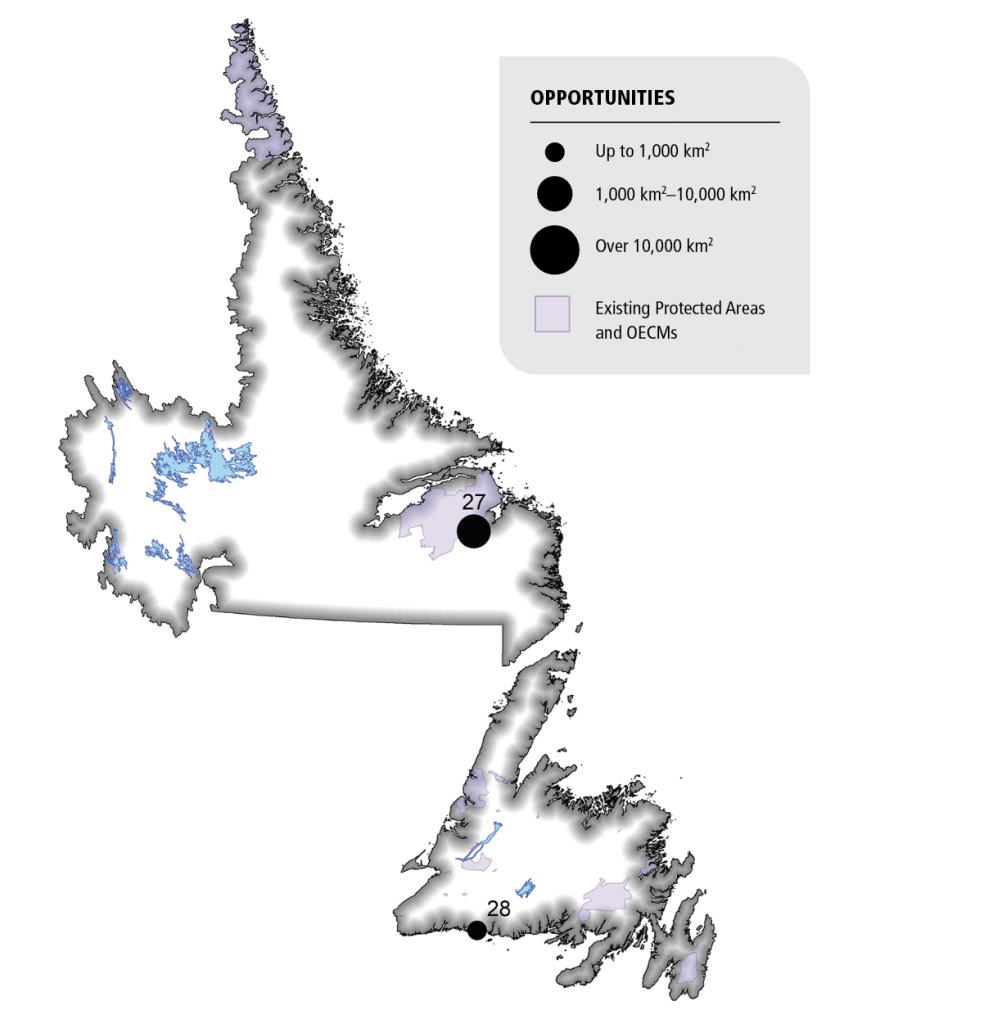 Prince Edward Island
Prince Edward Island Must Negotiate Protection of Private Lands
Prince Edward Island has the smallest proportion of land area protected of all Canadian jurisdictions. Private land protection and non-governmental land trust organizations continue to play a pivotal role in establishing protected areas on the island, and Indigenous-led initiatives are helping to drive progress.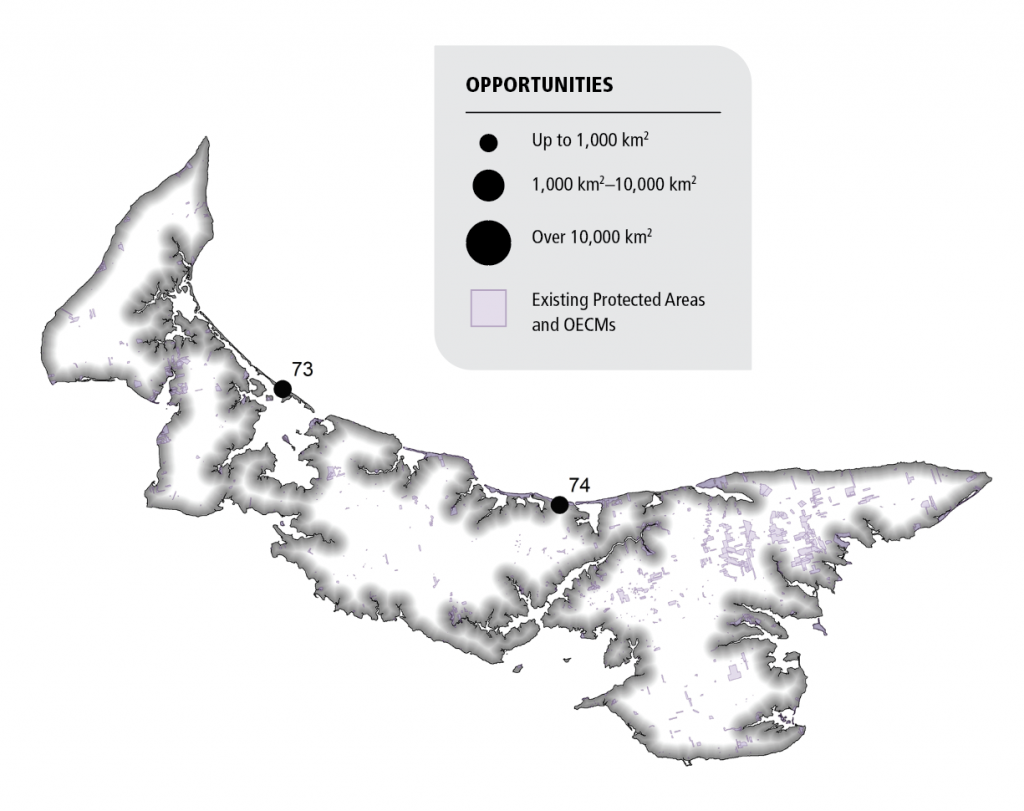 Contact Information for Media Inquiries
Tracy Walden
National Director, Communications and Development, CPAWS
twalden@localhost
613-915-4857