This year, the Canadian Parks and Wilderness Society (CPAWS) is celebrating our 60th anniversary. This milestone marks six decades of conservation work by dedicated staff, board members, and volunteers.
Since its founding in 1963, CPAWS has become a leader in conservation in Canada, and has played a key role in protecting nature across the country. Our 60 years of success is thanks to the people behind the organization, who bring their expertise, public education and advocacy experience, relationships, and local knowledge to the job.
This year will be an opportunity to highlight amazing conservation gains – and the voices of the incredible people behind this work – with our donors, supporters, and friends. We hope to inspire a new generation of conservation enthusiasts with a common vision: permanently protecting at least half of land, freshwater, and ocean in Canada to sustain nature and people for current and future generations.
We are experiencing unprecedented impacts of biodiversity loss and climate change, to the degree where they are now two of the top global crises. Each of these crises exacerbates the other, and both will devastate nature and living conditions for people if left unchecked.
With the recent adoption of an ambitious new Global Biodiversity Framework to halt and reverse biodiversity loss, protect at least 30% of land and ocean by 2030, and respect and recognize Indigenous rights and leadership, CPAWS is committed to continuing its work with Indigenous Peoples, federal, provincial and territorial governments, and other partners to ensure effective and equitable implementation of this plan in Canada.
Our 60th anniversary is an exciting milestone for our organization, but also one that causes us to think about our past, present and future. When our organization was founded, conservation was undertaken in very different ways, and in a model that inherently excluded the First Nations, Metis and Inuit who had stewarded these lands and waters for millennia. They were not consulted in the decision-making processes and in many cases, their lands and livelihoods were taken from them. This is the shameful history of our sector, but it's one that we need to acknowledge if we want to do better now and into the future.
CPAWS, as an organization, is committed to learning from our past. And while we now work very differently, we are still learning, and we know that to work in a good way means recognizing the leadership of First Nations, Metis and Inuit, and using our resources to support their conservation goals.
As the journey continues towards achieving this vision, we recognize that the work we do today builds on decades of prior efforts, including those made by Indigenous Peoples. CPAWS is committed to moving forward in the spirit and practice of truth and reconciliation, acknowledging and supporting the essential leadership of the Indigenous stewards who have cared for lands and waters since time immemorial.
Stay tuned for more information about our 60th anniversary!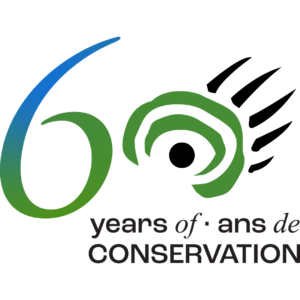 Join our communities on Facebook, Twitter, Instagram and LinkedIn for news, updates, and events through this exciting year for CPAWS. You can also donate today to help make 2023 a pivotal year for nature protection.