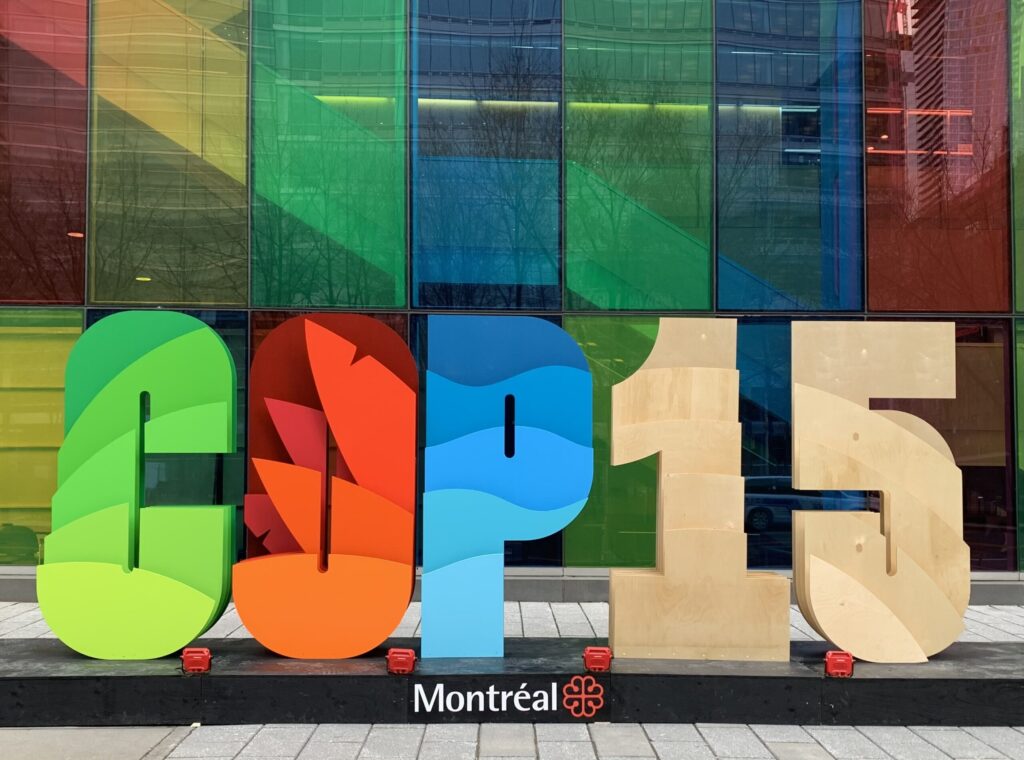 From December 5-17, CPAWS staff and Indigenous partners from across the country have assembled in Montreal for the 15th Conference of the Parties on Biological Diversity – better known as COP15 or NatureCOP.
This crucial meeting has one primary goal: for the world to agree on a plan and work together to halt and reverse nature loss once and for all for current and future generations.
We have gathered in Montreal to keep pressure on decision makers and to be a voice for nature.
It can be hard to follow everything going on at a major conference like this, so here's a handy summary of some of the key things that happened during the first week of COP15.
CPAWS at COP15
The CPAWS national team organized three events in the first week to provide platforms for our Indigenous partners. Our goal for these events was to promote knowledge-sharing and profile their amazing work to advance Indigenous-led conservation which is criticalto halting and reversing biodiversity loss in an equitable, just, and effective way.
In partnership with the Assembly of First Nations, we opened the Nature Positive Pavilion on the first day of COP15. The panel was moderated by Gwen Bridge with speakers including Patti Saulis – Executive Director of the Maliseet Nation Conservation Council, Matthew Munson – Director of Lands for Dene Tha' First Nation, Stephanie Thorassie – Executive Director of the Seal River Watershed Alliance, and Wanli Ou – Senior Policy Advisor with the Assembly of First Nations. We are grateful to Patti Saulis for opening and closing the panel.
Later that day our Executive Director, Sandra Schwartz, moderated a panel discussion in the Canada Pavilion with Lauren Terbasket from Lower Similkameen Indian Band, Matthew Munson from Dene Tha' First Nation, Tina Giroux from Ya'thi Nene Lands and Resources/Athabasca Denesųłiné First Nation, and Dolorès André from Uapashkuss.
Lastly, we hosted a reception with close to 200 Indigenous leaders and representatives, decision makers, and conservation partners from around the world to learn about Indigenous-led conservation in Canada. Speakers included Chief Doug Neasloss – Elected Chief Councillor and Stewardship Director of the Kitasoo/Xai'xais, Tina Giroux and Fred Throassie of the Ya'thi Nene Lands and Resources/Athabasca Denesųłiné, and Jewel Davies and Shauna Yeomans – youth leaders from the Yukon First Nations Climate Change Fellowship. The event was attended by the Minister of Environment and Climate Change Canada Steven Guilbeault as well as senior government officials from federal, provincial, and territorial governments.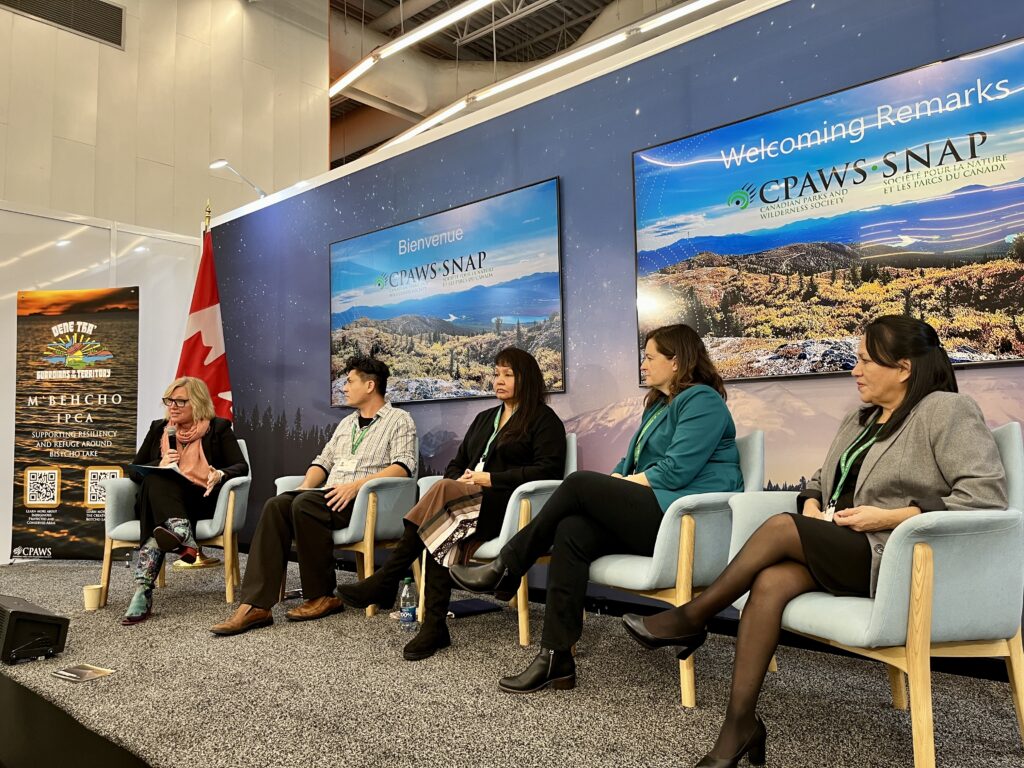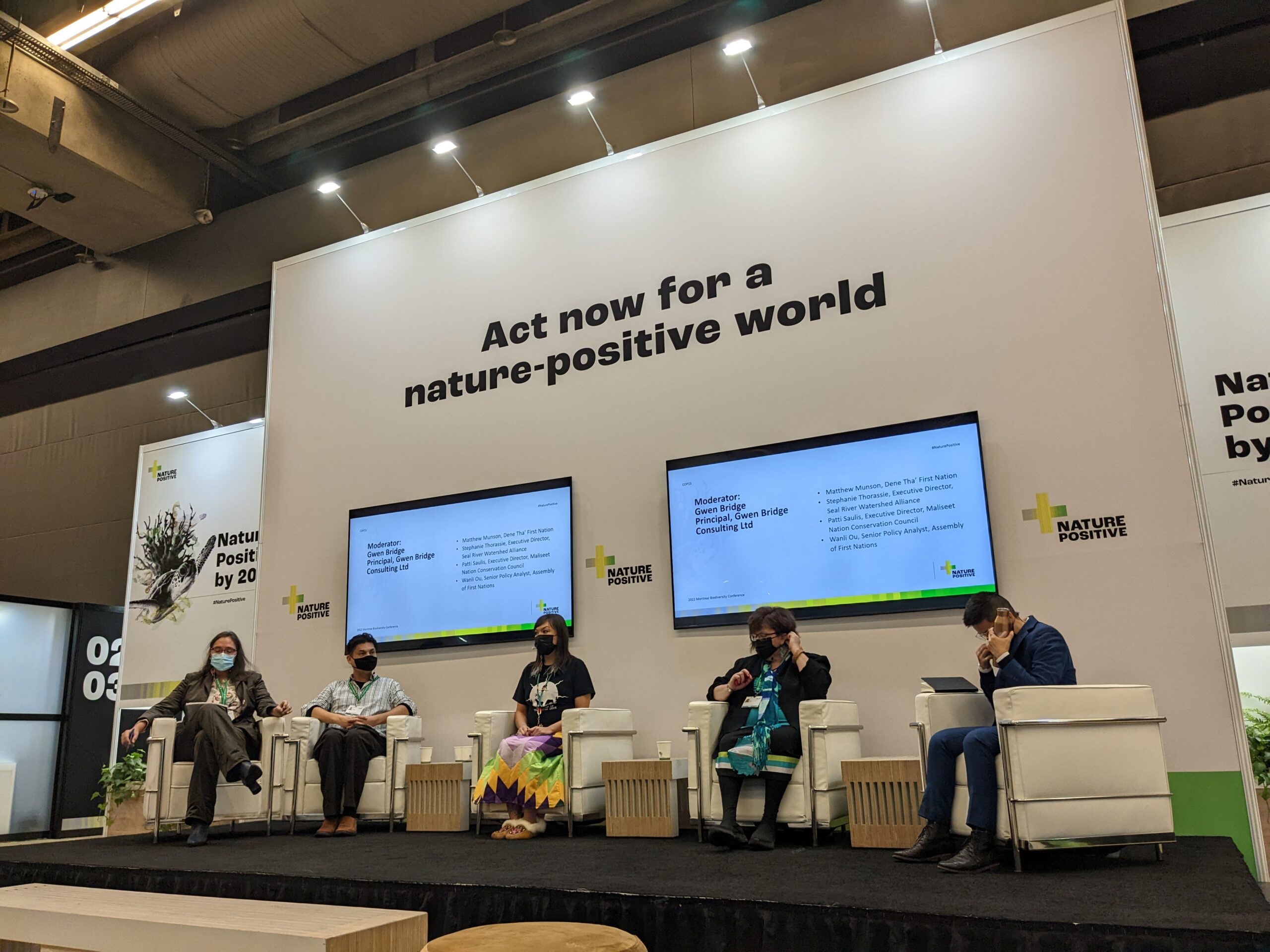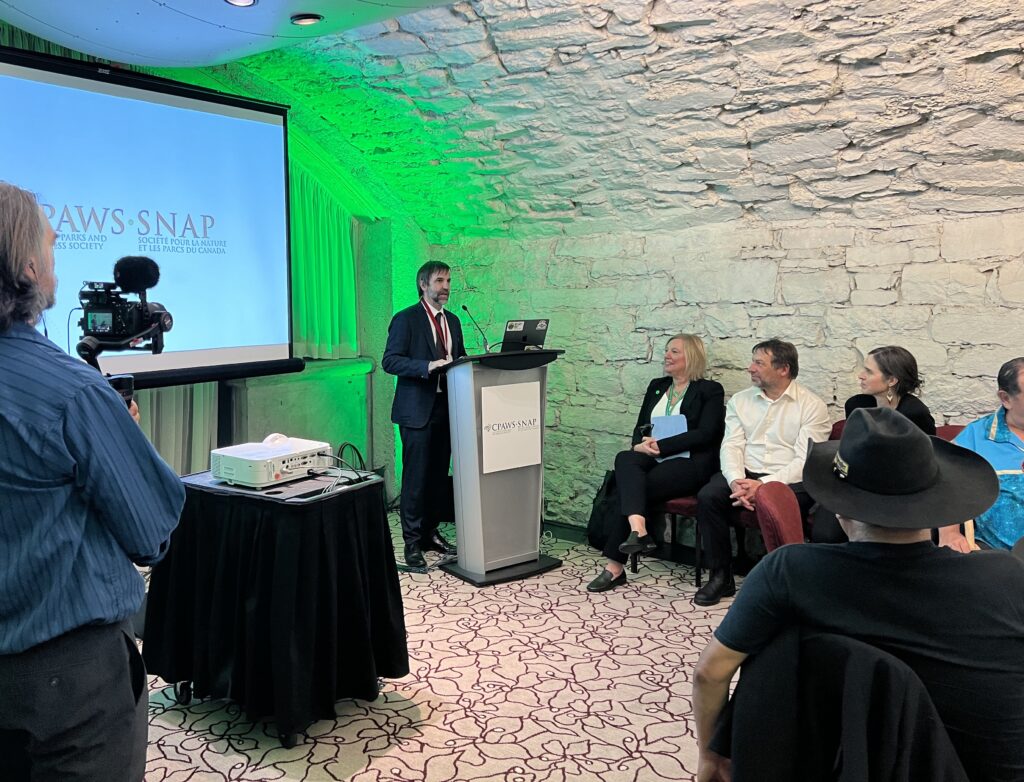 Opening Ceremonies
COP15 opened with an official ceremonial welcome and prayer given by Traditional Chief of the Onondaga Nation Tadodaho Sid Hill in which he emphasized the need to "act as one." In his opening remarks, Prime Minister Trudeau stated "If we can't agree as a world on something as fundamental as protecting nature, then nothing else matters." His speech was interrupted by Indigenous rights activists, who performed a drumming protest. In his remarks, the Prime Minister emphasized Canada's commitment to protecting 30% of its land and waters by 2030 by noting "We have not chosen that 30% number at random. It is the critical threshold according to the greatest scientists to avoid the risk of extinction." UN Secretary General Antonio Guterres took a similarly strong tone, describing humanity as a "weapon of mass extinction."
Advancing Indigenous-Led Conservation
As COP15 kicked off in Montreal, Prime Minister Trudeau announced CAD $350 million in new international finance for biodiversity. This is a critical step towards landing an ambitious Global Biodiversity Framework as international finance from wealthy nations such as Canada is essential to bridge the biodiversity finance gap and support less-wealthy nations in their work to halt and reverse nature loss.
The Government of Canada joined Indigenous nations in creating a conservation finance model to propel large-scale environmental conservation forward. This includes an investment of $800 million, an important step forward in achieving equitable nature protection and transformative conservation by 2030.
CPAWS also congratulates the Indigenous Leadership Initiative (ILI) on the establishment of a first-of-its-kind National Guardians Network to support First Nations Guardians work protecting biodiversity across Canada. Minister of Environment and Climate Change Canada Steven Guilbeault also announced federal funding for this crucial initiative.
Finally, we celebrated the Deninu Kųę́ First Nation (DKFN) and the Fort Resolution Métis Government (FRMG) in the signing of a $3.1 million Contribution Agreement with Environment and Climate Change Canada (ECCC) to develop an Indigenous Protected and Conserved Area (IPCA) proposal for an area of the Slave River Delta and portions of the Taltson watershed.
Moments from Quebec at COP15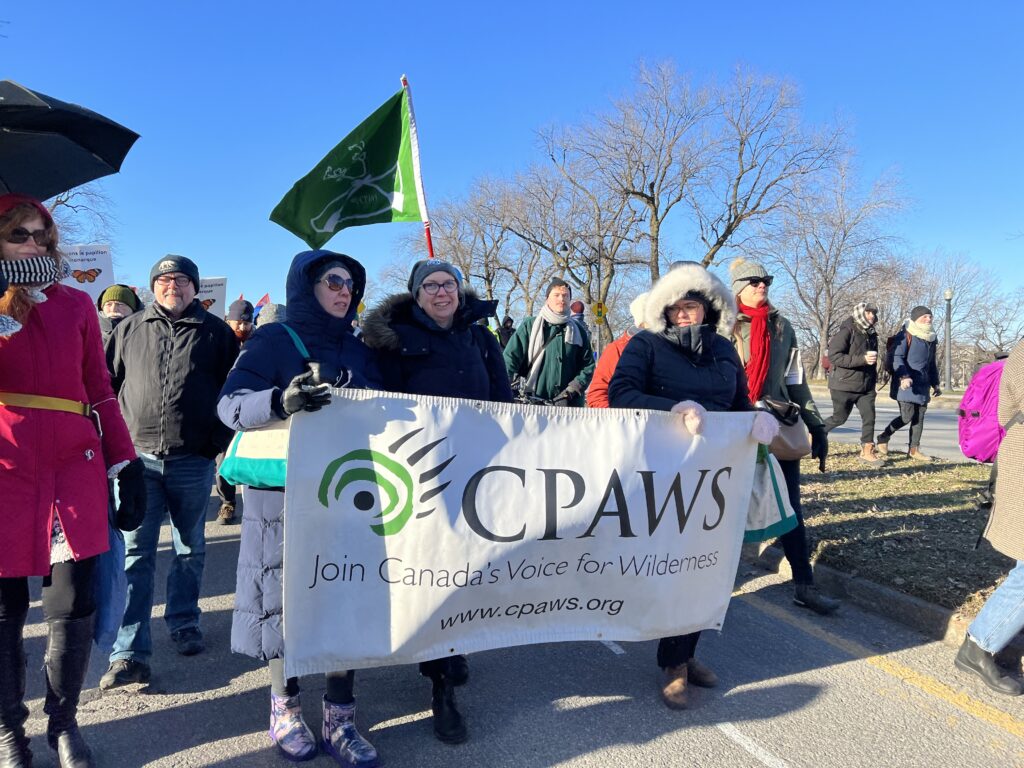 The Province of Quebec announced its Nature Plan and the province's largest investment in biodiversity protection of $650 million. The timing of this plan aligns with the Global Biodiversity Framework and confirms the province's support for safeguarding 30% of its territory by 2030.
Sixty-seven Quebec organizations came together to form the Quebec Civil Society Collectif for COP15, which organized the March for Biodiversity and Human Rights. Thousands participated in the march to demonstrate broad public support for conservation and push governments to take concrete and ambitious actions for nature protection.
SNAP Quebec and the Collectif also unveiled The Montreal Call at the closing event of their two-day Conference on Solutions to the Underlying Causes of Biodiversity Loss at the University of Quebec at Montreal (UQAM) happening alongside COP15. Panelists at this event included SNAP Quebec's Executive Director, Alain Branchaud, alongside federal and provincial Ministers, the Mayor of Montreal, and the Grand Chief of the Cree of Eeyou Istchee. The call is an invitation to global stakeholders to continue the dialogue on transformative solutions for an economic model and value system that are damaging nature. Canada's Minister of Environment and Climate Change Steven Guilbeault stated "There is an urgency to halt and reverse the alarming loss of biodiversity, worldwide and here in Canada… Montreal's Call is an important step, encouraging dialogue on solutions to the underlying causes of biodiversity loss."
SNAP Quebec also organized many other events, with Indigenous partners, to highlight on-the-ground conservation leadership by Indigenous communities and Nations in conserving and managing their territory and calling on political decision makers to recognize their legitimate governance.
The Communauté métropolitaine de Montréal, representing 82 municipalities, also announced their commitment to protecting 30% of nature in Greater Montreal by 2030 to align with federal targets. This includes establishing a network of urban parks, which will grow to more than 14,000 hectares – or 37 times the size of Mount Royal Park – by 2030 and creating new urban parks through an afforestation program.
Inside the Negotiations
While negotiations are painfully slow, Parties are making progress and building positive momentum. This is a welcome change from the regression that had been occurring during previous negotiating sessions this year.
Although there are many items on the COP15 agenda, the one most people are watching is the Global Biodiversity Framework, the agreement that should set us on a pathway for people and nature to live in harmony by 2030, which is expected to be finalized at this conference.
The Global Biodiversity Framework
The Global Biodiversity Framework identifies five main goals, and 22 targets to achieve those goals ranging from conserving land and ocean to climate action, strengthening accounting and reporting mechanisms, and re-directing subsidies that harm nature to support nature, and more. COP15 delegates have been working late into most evenings to review and find agreement on the language and details of the framework. Key issues include:
Financing the Framework
A coalition of like-minded developing countries are continuing to emphasize that wealthy countries need to commit more money to support fulsome and equitable implementation of the Global Biodiversity Framework to secure a strong deal in Montreal.
The Post-2020 Global Biodiversity Framework: Target 3
Negotiations have started to work through Target 3 which includes the proposal to protect 30% of land and ocean by 2030. The 120 members of the High Ambition Coalition for Nature and People continue to champion a strong target of protecting at least 30% of land and ocean, that includes quality and respect for Indigenous Rights. However, we are concerned that a number of countries may push to significantly reduce the percent target for ocean protection.
Indigenous Peoples and Local Communities
There was considerable discussion around the grouping of Indigenous Peoples and Local Communities in the framework text as some parties proposed that the language needs to reflect the special rights of Indigenous Peoples and the need for "Free, Prior, and Informed Consent" consistent with the United Nations Declaration of the Rights of Indigenous Peoples.
Developments we're following at COP15
The federal government announced its Critical Mineral Strategy. We are concerned this will open the door to a flood of mineral exploration and development projects that could undermine Canada's ability to deliver on its commitment to halt and reverse biodiversity loss. We welcome the reference to Free Prior and Informed Consent for Indigenous-led conservation and the desire to prevent biodiversity loss within the strategy but remain wary of the weak language and lack of detail.
On a more positive note, at a SNAP Quebec side event, Minister Guilbeault announced a commitment to deliver on their promises to eliminate fossil fuel subsidies in the first half of 2023, and recognizing the need to do similar work to remove subsidies that harm nature. These time-bound commitment are important to ensure the federal government's spending power is aligned with their commitment to halt and reverse biodiversity loss by 2030. We will be holding the federal government's feet to the fire to ensure this promise is implemented.
Fisheries and Oceans Canada (DFO) also released the long-awaited update of its marine Other Effective area-based Conservation Measures (OECM) guidance. We are reviewing this document and comparing it to previous guidance and feedback provided by CPAWS and our conservation partners. Stay tuned for our assessment over the next few days.