Working to conserve and restore urban ecosystems

A federal government plan to protect nature in cities where most Canadians live could make millions of us wild about conservation. It might be a game-changer – as long as wildlife and ecosystems come first.
In August 2021, Ottawa announced $130 million to create a network of national urban parks in cities from one side of Canada to the other. The project will see Parks Canada collaborate with municipalities, provinces, Indigenous partners, and conservation groups to locate and establish 15 national urban parks areas across the country by 2030.
CPAWS is currently making recommendations to inform government guidelines for creating and managing these parks into the future, as well as engaging in specific national urban park projects across the country.
Almost three out of every four Canadians live in cities, and many are affected by our growing disconnection from nature. Research shows that our increasingly urban lives and alienation from natural surroundings can add to stress and to the likelihood of physical and mental illnesses. It may also affect our appreciation of nature and our desire to protect it.
Importantly, most Canadian cities exist along the country's southern border, where our biodiversity is highest and where most of Canada's almost 700 species at risk are struggling to survive. Many scientists and conservationists agree that protecting city wildlife and habitat corridors through urban areas could help stem the tide of vanishing species. More urban green spaces could also help in the fight against climate change.
That's why CPAWS worked with partners over the past decade to help create and protect Canada's first national urban park in Toronto's Rouge Valley, an important urban natural area that is home to more than 1700 species of plants and animals.
These efforts also helped secure federal legislation to ensure the park is managed in a way that will protect and restore these ecosystems in perpetuity and provide ready access to nature for millions of city dwellers. We are now encouraging the federal government to further expand the park by adding adjacent federally-owned lands.
A NEW NATIONAL URBAN PARK COMING NEAR YOU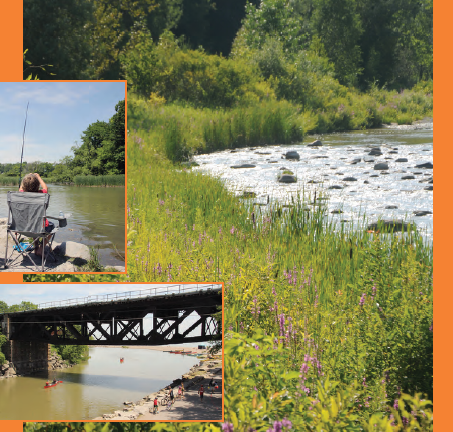 As part of this new program, Parks Canada and local partners are already studying the feasibility of a national urban park in Saskatoon's Meewasin Valley. Statements of collaboration for other possible national urban parks in Winnipeg, Halifax and Windsor have been signed, while Edmonton, Montreal and Colwood, British Columbia are discussing possible park sites. Eight other city homes for new national urban parks have yet to be identified.
The planned national urban parks network is part of the federal government's promise to protect 25% of land and ocean by 2025 and 30% by 2030. The targets are among Canada's ambitious national and international conservation pledges made to the G7 Nature Compact, the Leader's Pledge for Nature, the High Ambition Coalition for Nature and People and the UN Convention on Biological Diversity.
In addition to new national urban parks, Parks Canada plans to create 10 new national parks and 10 national marine conservation areas within the next five years. Support for these efforts comes from Federal Budget 2021's historic $3.2 billion investment in land and ocean conservation.
CPAWS applauds this commitment to create a Canada-wide national urban parks system and is working to ensure that these new parks will effectively conserve and restore urban ecosystems while making nature more accessible to Canadians. Ensuring early and on-going engagement with Indigenous Nations in whose traditional territories these areas are located, and developing strategies to ensure these areas are welcoming, inclusive, and accessible spaces, will be critically important.
Unlike national parks like Banff or Fundy, national urban parks will not necessarily be owned and operated by Parks Canada.
They could include areas owned and managed by other levels of government, First Nations, NGOs, or other partners.
Given this flexibility, CPAWS recently submitted policy recommendations to Parks Canada, encouraging them to set clear expectations for what is required to be part of the national urban parks system, including by putting in place federal legislation. The recommendations are intended to make each national urban park a point of pride for city dwellers across the country.
———————–
THIS ARTICLE ORIGINALLY APPEARED IN THE SPRING/SUMMER 2022 ISSUE OF CANADIAN WILDERNESS.