Written By: Gord Vaadeland
This is the second  piece of a four part op-ed series: Part 1 | Part 2 | Part 3 | Part 4

Gord is the Executive Director of the Saskatchewan Chapter of the Canadian Parks and Wilderness Society. Aside from that, he also owns and operates Sturgeon River Ranch, a horse based adventure tourism company on the Wild West Side of Prince Albert National Park.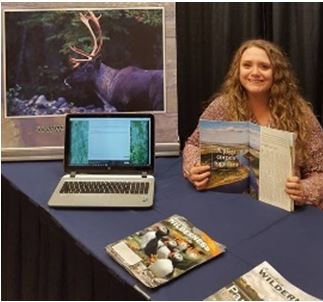 Kelly Richardson is CPAWS-Saskatchewan's Forests Program Coordinator.  Although her job title links her to our province's forests she is just as passionate about the conservation of Saskatchewan's grasslands.
Grasslands, Forests & Wetlands – Nature's Carbon Capture & Storage Solution
Climate change – it's the hot topic that has our federal and provincial governments on their toes, trying to find solutions on how to reduce carbon  (CO2) emissions and store those we generate.   What if we told you there was a carbon capture and storage solution right in our backyards?  Intact landscapes such as wetlands, forests and grasslands are some of nature's best carbon sinks – meaning they have the ability to store large amounts of carbon.  These intact landscapes could be a very effective tool in Saskatchewan's efforts to reduce its carbon footprint. Wetlands store large amounts of carbon through the sequestration of atmospheric CO2 to organic carbon in the soil.  They play a key role in regulating greenhouse gases and buffering the impacts of climate change.  Peatlands such as fens, bogs and swamps are especially efficient carbon stores due to the high amount of organic soil found within them.  In Saskatchewan, it's estimated that 1.56 billion tones of CO2 are stored in the area around the Saskatchewan River Delta alone.  That is equivalent to the total annual CO2 emissions from 331,223,511 cars, or emissions of 16,561,176 vehicles over 20 years. Boreal forests are one of the world's largest and most important carbon storehouses.  Canada's Boreal Forest stores about 71.4 billion tonnes of carbon in forest ecosystems and 136.7 billion tonnes in peatland ecosystems. In addition to these terrestrial carbon stores, the numerous lakes located in Canada's Boreal Forest region account for a portion of the approximately 0.6 billion tonnes of carbon that are buried globally each year in inland water sediments.  The 208.1 billion tonnes of carbon estimated to be stored by forest and peatland ecosystems within Canada's Boreal Forest region is equivalent to 26 years worth of the world's carbon emissions at 2006 levels. Grasslands store approximately 34% of the global terrestrial stock of carbon according to the World Resources Institute. Unlike forests where vegetation is the primary source of carbon storage, most of the grassland carbon is stored in the soil.  Within Canada, temperate grasslands play a significant role in the global carbon cycle because of their vast areas and high soil carbon density.  It is estimated that soils under native grasslands in western Canada may contain up to 200 tonnes of carbon per hectare within the first metre under fescue prairie, with estimates of perhaps two to three billion tonnes of carbon within the uncultivated grasslands of western Canada.  In short, the amount of carbon stored under one hectare of unbroken fescue is equivalent to removing approximately 150 cars from the surface of the earth for one year. Effective conservation of our wetlands, forests and grasslands through initiatives such as the elimination of illegal drainage, the creation of protected areas in our boreal forest and the creation of programs that effectively protect and manage our remaining native grasslands can be achieved while also allowing for economic prosperity. And while these initiatives are providing habitat for species at risk, migratory birds or aquatic life, they also take us a long way down the road to meeting our global commitments on climate change and carbon emissions. The climate change conversation is a complicated one, but this does not mean that all of the solutions are complicated. Whatever the outcome of April's Provincial Election, we hope the provincial government will consider the value these natural systems can play as it also develops a plan to reduce its carbon footprint.  New technology is great, but nothing beats the efficiency of our natural ecosystems when it comes to carbon capture and storage.
This op-ed was written by Kelly Richardson and Gord Vaadeland of the Canadian Parks and Wilderness Society -Saskatchewan, as part of a non-partisan coalition of environmental groups (with the Public Pastures – Public Interest, Saskatchewan Environmental Society and GreenPAC) working to ensure environment is on the agenda of the provincial election.