Published by CPAWS Ottawa Valley. Read the original blog.

We know it's important to connect youth to their local natural environment.
Not only can spending time outdoors help lower levels of stress, but connecting kids and young adults to nature can help foster their appreciation for the great outdoors and passion to become environmental stewards.
Our Canadian Wilderness Stewardship Program (CWSP) helps make this a reality.
The program empowers young adults in the Ottawa Valley to make a difference in wilderness conservation and for their future in 3 steps:
Participate in a wilderness expedition to experience nature first-hand
Lead their own volunteer conservation or education project
Attend a summit to network, share knowledge, and grow their conservation, leadership, and advocacy skills
The 2021/2022 CWSP season kicked off September 2021 with a two-day white-water canoe camping trip on the Noire River with Esprit Rafting.
Chloé McMillan, our Education Director, led the September expedition. Here she breaks down 4 lessons the participants learned.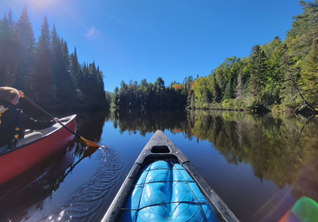 Canoeing safety 101
Expedition participants were at different comfort levels with canoeing, so before heading onto the water everyone took part in a lesson to ensure comfort and safety with the canoes, techniques, and how to navigate the rapids.
Participants were led through various types of paddling techniques, how to move a canoe in all directions, and tricks like how to move sideways without moving forward and parking alongside the shore backwards.
Not only did this provide everyone an opportunity to learn or improve their canoe skills, but it helped put people's minds at ease before heading onto the water. Ensuring people are equipped with the knowledge and skills to canoe and interact with nature safely is crucial to a successful nature expedition.
"My trip with CPAWS to the Noire River was absolutely magical. As someone who had never done any overnight tripping, or a lot of canoeing, I was a little nervous- but I didn't need to worry, because everything was planned exceptionally well. I felt really welcome and comfortable the whole weekend, and learned so much from the CPAWS staff, our guide and the other participants. I feel really inspired to continue my work in learning about the regions that CPAWS supports, and bring that knowledge back to my communities. Thank you CPAWS and Esprit Rafting!" – Meghan, CWSP Youth Participant
It's important to do your homework
Mathieu St-Laurent Addison, our Conservation Projects Coordinator, joined the expedition to shed light on the process of establishing a protected area. One aspect he focused on was how critical it can be to establish a region's current biological and ecological conditions when advocating for an area to be protected. It shows what needs protecting and to what extent.
Mathieu shared his experience working with the Kitigan Zibi Land Guardians and how their work has been pivotal in collecting field data.
He also discussed the importance of habitat connectivity and our efforts to make Gatineau Park a "real" park.
Mathieu's experience in the field, and his knowledge of the natural history of the region, was well complemented to the economic and social history of the area shared during a personal welcome to the region by the Pontiac MRC Prefect, Jane Toller. Jane joined the participants for dinner before they set off on the river trip and shared with the youth the complexity of regional planning and her pride for the Pontiac wilderness.
Stewardship and conservation
Jim Coffrey, owner of Esprit Rafting and the lead canoe guide throughout our adventure, highlighted the importance of being good stewards of the land and giving back to your community.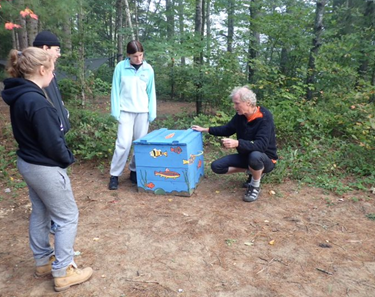 This includes taking intentional efforts to minimize our impact on nature as much as possible. One example Jim shared was how he's built specialty low water use toilets at his base camp along the Ottawa River. The Esprit toilets are modified so the water used to wash your hands is redirected to flush the toilet, saving thousands of litres of water each year. He also spoke of the importance of packing out waste when on a trip and discussed one way of properly managing human waste – Thunderboxes. Thunderboxes are essentially simplified outhouses that help contain waste and keep it away from animals and water.
"The expedition on the Noire River was a great opportunity to learn more about the distinct ecosystem of the Three Sisters area and the importance to protect it in a fun, educational and accessible way." – Angélique, CWSP Youth Participant
Advocacy without authority
Along with facilitating discussions about potential community projects the youth can lead, our Education Director Chloé McMillan introduced participants to the concept of "advocacy without authority." This approach to advocacy within the environmental sector centres a mindful approach to different ideals, experiences, and needs when planning conservation projects. It focuses on approaching people with kindness and compassion when asking for action and taking into consideration different lived experiences and viewpoints.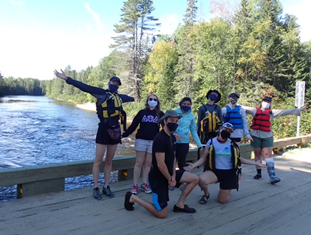 What's next?
CWSP participants will now use what they learned in stage two of the program: planning their own conservation projects. Youth will work closely with our team to plan and implement these community-based projects. Our team will also be taking participants to Gatineau Park to learn about its history and the work we're doing to make it a "real" park. CWSP youth participants will be attending monthly meetings where industry guest speakers and CPAWS staff discuss conservation initiatives in the region, as well as techniques and skills they can incorporate into their own projects. Follow our Facebook page to catch glimpses of what the youth are working on and public opportunities for getting involved in their projects.